Power Source is available in inverter rack.
Press Release Summary: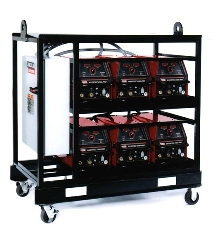 Invertec® V350-Pro power source is offered in rack-mounted configuration that complies with National Electric Code (NEC) and is IP23S compliant. Lockable main disconnect switch on primary power supply allows users to turn off power to all machines in rack by turning one local switch. Lincoln rack has watertight, flexible conduit and THWN rated wiring to connect each inverter to distribution panel. System is designed for 230/460/575 Vac operation.
---
Original Press Release:

Lincoln Electric's Invertec® V350-PRO Now Available in an Inverter Rack


Inverter Racks First To Meet IP23S And NEC Standards

Cleveland, Ohio -- The Lincoln Electric Company now offers its popular Invertec® V350-Pro power sources in a rack-mounted configuration. This is the first time the company has offered this choice on its most powerful inverter. These new products are the only inverter racks in the industry that comply with National Electric Code (NEC) and are IP23S compliant. The standard main disconnect switch and IP23S rated power sources set these racks apart from the competition.

The Invertec V350-Pro Factory Rack power source is designed exclusively for inverter rack installations. This power source offers the same functionality as the popular Invertec V350-Pro Factory model, plus added weather protection features and IP23S certification for outdoor use.

Those most likely to benefit from this model and its inverter racks include construction sites, rental shops and maintenance welding applications, welding training schools and technical training centers.

A standard feature on all Lincoln Electric racks, is a lockable, main disconnect switch on the primary power supply. This allows users to turn off power to all machines in the rack by simply turning one local switch. No more searching for the right switch or tracing cables back to a panel.

While competitive rack systems use a cord for primary power, the Lincoln rack has a watertight, flexible conduit, and THWN rated wiring to connect each inverter to the distribution panel. Standard length wiring permits the power sources to be mounted in any position on the rack. Inside the panel, individual fuses provide over current protection for each power source. The entire system has been designed for 230/460/575 VAC operation.

The inverter racks are available in two configurations-a four pack and a six pack. They feature:
- Fork truck slots, two lifting eyes, and castors for ease of movement
- Built-in grounding lugs on the frame
- A unique bar locking system for easy servicing, (yet holds the power sources firmly in place)
- A protective roof offers shelter from the elements
- Heavy duty tubular steel frame construction

These racks are shipped with Lincoln's specialized Invertec V350-Pro Factory Rack model. This machine is equipped with all the same amenities as the Invertec V350-Pro standard factory model which:

- Is capable of 230-575V input operation (either single or three phase)
- Provides 350 amps at 60% duty cycle
- Operates on single or three phase input power
- Produces either a constant current or constant voltage welding output for Stick, TIG or MIG
- Has Twist-Mate(TM) style output connectors to provide easy hook-up with welding cables and a tough, durable case provides protection for rugged conditions
- Is suitable for applications that require an extremely smooth arc, process versatility and portability

While the factory rack model is similar to the standard factory model in many ways, it maintains a few additional characteristics including:

- A water tight, flexible conduit that runs from each inverter to the distribution panel (this replaces the standard cord seen on the standard factory model)
- A clear, rubber boot that lays over the power switch and circuit breaker reset switch which prevents rain and other elements from hampering the performance of the machine.
- Covers for all remote connection ports to keep the elements out

These advantages set these machines apart from the competition and they comply with IP23S regulations and the NEC code.

The Lincoln Electric Company, Cleveland, Ohio, is a world leader in the design and manufacture of arc welding equipment and consumables, robotic welding systems, plasma and oxyfuel cutting equipment.

For more information on the Invertec V-350PRO Inverter Racks, please request brochure E5.91 by contacting The Lincoln Electric Company at 22801 St. Clair Avenue, Cleveland, OH 44117-1199, via phone at 1-888-355-3213 or at the company's web site:
http://www.lincolnelectric.com.


More from Machinery & Machining Tools