Power Plant Diagnostics Tool affords real-time insight, analysis.
Press Release Summary: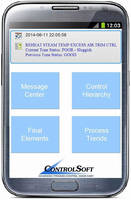 Used to communicate diagnostics on process controllers and final elements for corrective action, INTUNE+ I&C INSIGHT lets users drill down from messages and control hierarchy view to performance indices and process trends. Users can also see results of performance diagnostics on process controllers and plant floor final elements. In addition to diagnostic messages with rich context and embedded hyperlinks, features include process fault root-cause analysis and real-time status overview.
---
Original Press Release:

INTUNE+ I&C INSIGHT for Power Plants



Highland Heights, OH: ControlSoft Inc. announces that INTUNE+ I&C INSIGHT tool for power plants is now in wide release.



First available to a small number of engineers in June of this year, I&C INSIGHT communicates diagnostics on process controllers and final elements for corrective action, thus allowing users to drill down from messages and control hierarchy view to performance indices and process trends.



Using this tool, I&C engineers and technicians can see the results of performance diagnostics on process controllers and plant floor final elements.



INSIGHT gives I&C crews the crucial ability to view and access how process variability propagates through various process areas and the control hierarchy.



Unique features of this tool

--Performance diagnostic messages with rich context having embedded hyperlinks on the performance of process controllers and plant floor final elements

--Process fault root-cause analysis by information drill-down using hyperlinks from diagnostic messages to relevant process performance indices and to relevant process trends focused in relevant time frames

--Real-time status overview of control hierarchy and drill-down to performance indices from hierarchy view 

--Views of process variability propagation across control hierarchy and process areas 

--Tuning status for DCS PID controllers based on expert system pattern recognition techniques with embedded hyperlinks to process trends focused on relevant time frames

--Easy access to the color-coded list of all poorly, fairly, and well-performing plant floor final elements 

--Customization and expansion for specific customer needs



Basic features of this tool

--Browser-based remote access to real-time control valves and diagnostic events of process controllers.

--Diagnostics message center with filtering and archiving capability

--View of DCS control hierarchy of all PID controllers reflecting cascading relationships of controllers color-coded for performances

--Average error and absolute error, standard deviation of error, percent of time in various modes of operation, percent of time in various alarming states, oscillation frequency, valve stiction percent, tune status index, recognized patterns in relevant process trends for control loops and final elements

--Date and time indexing of diagnostics message

--Configurable time horizon for data analysis

--Configurable set of commonly used or user-defined KPIs for controllers and final elements

--List of available and preconfigured process trends



Compatibility & Demo & Learn More 

--INTUNE+ I&C INSIGHT is compatible with all PC, laptop, tablet, and smartphone devices running any OS with a JavaScript-enabled web browser (except not compatible with IE 6. 7. or 8).  

--For a hands-on demo, go to www.controlsoftinc.com./mobileapp.shtml

--To learn more:   www.controlsoftinc.com/mobileapp.shtml  440-443-3900, ext. 101, power@controlsoftinc.com



About ControlSoft Inc.

An award-winning, innovative leader in advanced process control, ControlSoft Inc. specializes in advanced control solutions for the process industries. A leader in model-based control for process applications, ControlSoft was founded in 1985 by a group of faculty members and graduates of Case Western Reserve University, and is headquartered in Highland Heights, Ohio.



ControlSoft's proven PC-based software products work with existing control systems.

--  INTUNE Version 6 and INTUNE+ Process Navigator for process control monitoring, tuning, online diagnostics, and automatic reporting on poor performance

--  MANTRA for advanced process control systems, using model-based control to improve profitability and quality

--  MANTRA® and INTUNE® are registered trademarks of ControlSoft Inc.



ControlSoft offers custom engineering services, including onsite tuning, consulting, APC implementation, and training in control loop optimization and control strategies.  Learn more: visit www.controlsoftinc.com; email to info@controlsoftinc.com; call 440-443-3900.

More from Electrical Equipment & Systems