Power Management Module is suitable for data centers.
Press Release Summary: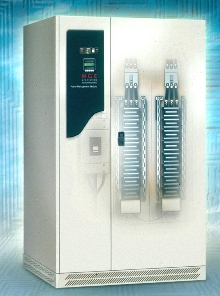 Power Management Module (PMM) system integrates isolation, conditioning, electronic grade grounding, and power management and distribution for up to 252 output breakers. It monitors main and sub-main breakers as well as all branch circuit breakers. Monitor instantly alerts operators via LCD display and audible alarm before breakers are at risk of tripping. It also handles current distortion associated with electronic equipment and resists thermal stress.
---
Original Press Release:
MGE Introduces Expandable Power Management and Distribution System To Assume Power Availability for Today's Demanding Data Centers
Incorporates Industry's First Breaker Scanning Technology for Advanced Trip Notification COSTA MESA, Calif. - June 10, 2002- MGE UPS SYSTEMS, a global leader in high-availability power solutions, today introduced its new Power Management Module (PMM) system that offers unsurpassed power availability and distribution for the growing data center. MGE's new PMM (often referred to as a Power Distribution Unit) greatly simplifies design, building and management of the data center's power infrastructure. By integrating isolation, conditioning, electronic grade grounding and power management and distribution for up to 252 output breakers, MGE has developed a robust and versatile power delivery solution in one compact system. As an expert in high-availability power systems, MGE has taken monitoring to a new level by eliminating single points of failure common with Power Distribution Units. Instead of monitoring just the output voltage, MGE's advanced breaker scanning technology constantly monitors the main and sub-main breakers as well as all the branch circuit breakers. The monitor instantly alerts operators, via its large format LCD display and audible alarm, to high current conditions well before breakers are at risk of tripping. This is especially beneficial when power load densities increase as new equipment is added to the network. In addition to smart circuit monitoring, the PMM is designed specifically to handle the high current distortion associated with electronic equipment. A key feature that sets this system apart is a computer-grade K-Factor isolation transformer with a very low impedance to minimize voltage distortion and tightly regulate voltage. This allows the power management system to deliver unsurpassed reliability by resisting thermal stresses that compromise conventional transformers and distribution systems. Copper shielding between windings virtually eliminates harmful EMI and RFI noise from being transmitted to the critical loads. Network facility managers and consulting engineers will appreciate the PMM's design simplicity and versatility. Instant front access via hinged doors, dead front panels and ample raceway and landing space simplify cable routing changes and the addition of circuits. The PMM can be integrated with the Powerlogic EGX Ethernet gateway allowing all distribution system information to be accessed over the Internet or easily integrated into a building management system. For dual input distribution, MGE's new PMM Plus integrates the Power Management Module with MGE's Epsilon Static Transfer Switch to provide dual input distribution with automatic source selection. Automatically sensing power quality deficiencies, the static transfer switch seamlessly transfers to an alternate input power source in under four microseconds. To meet the demands of growing distribution systems, MGE also offers a PMM Remote system containing 2 X 42 pole panel boards in a compact footprint. MGE's new Power Management Module system is available now with several options for customer specific requirements. Starting list price is $5,597 and includes a one-year warranty. About MGE: MGE UPS SYSTEMS is a global provider of power quality solutions designed to increase the availability and uptime of any mission-critical application or process. From desktop PCs to large Data Centers and telecommunication facilities to semiconductor manufacturing plants, MGE's UPS product and service solutions are deployed around the globe. For over 35 years, MGE UPS SYSTEMS products have been the choice of the world's largest and most demanding companies and organizations. Always ready to satisfy new needs, MGE UPS SYSTEMS together with its 37 subsidiaries, 150 sales and customer service offices and production facilities in Europe, the USA and Asia as well as two R&D centers - in Grenoble, France and Costa Mesa, California, MGE can easily meet customer expectations throughout the world. To learn more about MGE's innovative power protection solutions, visit MGE's Web site at: www.mgeups.com or call MGE at 800-523-0142.
More from Printing & Duplicating Equipment