Power Management IC maximizes energy in multi-kW systems.
Press Release Summary: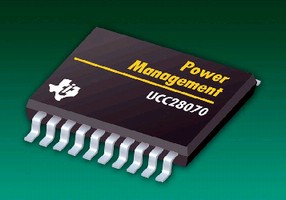 Helping designers achieve greater than 0.9 power factor rating, Model UCC28070 enables light-load phase management, which allows system to turn phases of power supply on or off. Two-phase, continuous conduction-mode controller incorporates 180° interleaving method, which minimizes I/O current ripple and distributes magnetics to optimize thermal management. Output over-voltage protection with open-loop detection safeguards system from circuit board failures.
---
Original Press Release:

TI's Next-Generation Power Management IC Maximizes Energy in Multi-Kilowatt Systems



Two-Phase, Single-Chip Interleaving Power Factor Controller Simplifies Design, Increases Energy Performance and System Reliability

DALLAS (Nov. 26, 2007) - Texas Instruments Incorporated (TI) (NYSE: TXN) introduced today the industry's first single-chip, interleaved power factor correction (PFC) control circuit for multi-kilowatt communications, server and industrial systems. The new UCC28070 two-phase, average current-mode controller allows designers to simplify power design, increase system reliability and achieve a greater than 0.9 power factor rating, which improves energy efficiency. See: www.ti.com/UCC28070-pr.

"The increasing need for better energy management is apparent in every area of our lives, especially at the business operations level. The magnitude of power requirements for data centers and telecom systems continues to drive industry-wide efforts to reduce wasted energy and improve power quality," said Bob Mammano, power management staff technologist and TI Fellow. "Today's announcement gives power engineers an innovative solution that raises the bar toward more efficient power supply control."

Building on more than 20 years of PFC circuit development, TI's UCC28070 continuous conduction-mode controller provides unprecedented performance and reduces system cost in applications where high efficiency and high power factor requirements are important. These range from high-end communications systems to embedded white goods motor drives in refrigerators and air conditioners to HID lighting ballasts.

In line-operated systems with power levels from 75 W to 1kW and above, the UCC28070 helps reduce total harmonic distortion, allowing today's systems to better maximize usable outlet power and accommodate extreme variations and disturbances in various AC line voltage levels used around the world.

Meeting Strict Efficiency Requirements
The UCC28070 helps designers meet the most stringent efficiency requirements for multi-kilowatt power systems. This PFC controller allows light-load phase management to enhance a system's performance -- achieving higher efficiency over the entire load range. Phase management allows a system to turn on or off phases of the power supply, so that only the phases required to power the load are enabled.

In a 1.2-kW system, the UCC28070 can initiate an increase of up to 1.5-percent efficiency at a light 20-percent load condition, allowing designers to exceed energy guidelines set forth by industry initiatives, such as The Green Grid, Climate Savers Computing Initiative and Project Big Green. In a 240-watt supply at 20-percent load condition, for example, this increase in efficiency results in a 27-percent power savings.

System Reliability and Protection
The device helps increase system reliability by incorporating a unique 180 degree interleaving method, which reduces the amount of input and output current ripple and distributes the magnetics to improve thermal management. Average current mode interleaving allows a system to achieve between 50 and 100 percent reduction in ripple compared to today's typical non-interleaved PFC architectures.

The UCC28070's optional programmable-frequency dithering mode allows a designer to spread the switching frequency over a range to minimize the generation of electromagnetic interference (EMI). The dithering feature helps reduce capacitor size, and it gives designers the ability to use a smaller, less expensive EMI filter.

The UCC28070 offers several unique system control and protection features to improve overall system reliability. An output over-voltage protection scheme with an open-loop detection feature safeguards the system from common circuit board failures. Each phase current is accurately balanced with independent current sensing to prevent excess component heating in the device's dual-phase operation. In addition, the UCC28070 provides under-voltage lockout, cycle-by-cycle peak current limit, and a system over-temperature protection feature.

Two-Phase Single-Chip PFC Controllers for Consumer and High-Power Applications
In June TI introduced the UCC28060, which is the first single-chip, transition-mode, two-phase PFC controller for 75- to 800-W applications, including consumer applications, such as digital TVs, personal computers and entry-level server platforms. Both the UCC28060 and UCC28070 give designers the best options as they design power systems that support power factor correction in end-equipment designs. For more information on the UCC28060, visit: www.ti.com/UCC28060.

Available Today
The UCC28070 is available in a 20-pin TSSOP package. It is sampling today, with volume production scheduled for January 2008. Suggested resale pricing in quantities of 100 units is $2.45. An evaluation board, power factor correction application notes and data sheets are available at power.ti.com.

About Texas Instruments
Texas Instruments Incorporated provides innovative DSP and analog technologies to meet our customers' real world signal processing requirements. In addition to Semiconductor, the company includes the Education Technology business. TI is headquartered in Dallas, Texas, and has manufacturing, design or sales operations in more than 25 countries.

Texas Instruments is traded on the New York Stock Exchange under the symbol TXN. More information is located on the World Wide Web at: www.ti.com

More from Printing & Duplicating Equipment