Power Management Chipset optimizes solar panel performance.
Press Release Summary: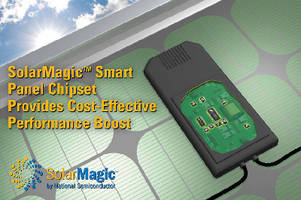 Incorporating 10 analog and mixed-signal ICs, SM3320 SolarMagic(TM) provides digital control combined with analog sensing and communication. Proprietary algorithms apply localized maximum power point tracking, extracting maximum energy available by translating input voltage and current to best output voltage and current pair to maximize energy flow. Equipped with 99.5% efficient, 350 W tri-mode power converter, SM3320 can boost, pass-through, or lower voltage of each panel.
---
Original Press Release:

National Semiconductor's SolarMagic Chipset Makes Solar Panels "Smarter"



In-Panel Electronics Enable Module and Junction Box Manufacturers to Integrate Award-Winning Power Optimizer Technology

SANTA CLARA, Calif. - National Semiconductor Corp. (NYSE:NSM), a leader in the design and manufacture of high-performance analog semiconductors, today introduced the solar industry's first in-panel SolarMagic(TM) chipset, marking the advent of a new category of solar systems: "smart panels."

Whereas solar panels today are prone to underperform due to conditions such as age, mismatch and shade, smart panels incorporate advanced electronics to harvest the maximum energy from a solar system. National and its partners will demonstrate SolarMagic smart panels at Intersolar Europe in Munich, Germany, June 9-11, 2010. Visit National Semiconductor in Hall B5, Booth #429.

The SM3320 SolarMagic smart panel chipset is the most recent addition to National's award-winning SolarMagic product line and provides junction box and module manufacturers with the "smarts" to ensure the highest efficiency and return on investment for solar system owners. By coupling more energy production with a lower balance of systems cost, the SM3320 provides solar system owners a high-performance solution at the lowest cost per kilowatt-hour.

"By introducing the first in-panel smart electronics to the solar market, we are keeping with a five decades long tradition of developing the category-defining products that shape an industry," said Mike Polacek, senior vice president of National's Key Market Segments Group. "National Semiconductor has been embedded in the solar industry since its inception. Already, our power management electronics are used in nearly two-thirds of the inverter and junction box market and we currently have more than 100 MW of solar systems under SolarMagic monitoring and management. The development of smart panels builds on what National does best - smart power management electronics - to enable higher efficiency, more robust solar systems."

Technical Features of National's SM3320 SolarMagic Smart Panel Chipset

National's SM3320 is the first analog-intensive power management chipset in a new category of in-panel electronics that improves power output, reliability and cost-effectiveness of solar systems.

SolarMagic provides an innovative solution to long standing problems with solar arrays and their design. Real-world problems lead to mismatch in solar systems, significantly reducing the power output of an array. SolarMagic can recoup up to 71 percent of power lost to mismatch - regardless of cell technology - giving installation owners more predictable power output and increased return on investment.

For the first time, National reveals the "magic" inside SolarMagic. Launched into the market in May 2009, National's original award-winning SolarMagic power optimizer was a standalone system, which can be attached to existing or new solar installations. Now, National is also embedding SolarMagic power optimizer benefits as a chipset directly into junction boxes, which already reside on all solar panels. Packaged as a complete board-level system or available as a chipset, National's SM3320 incorporates ten proprietary analog and mixed-signal integrated circuits, providing highly reliable digital-control combined with analog sensing and communication. Proprietary algorithms apply localized maximum power point tracking (MPPT), extracting the maximum energy available by translating the input voltage and current to the best output voltage and current pair to maximize energy flow. The SM3320 is cognitive: the system senses input voltage and current throughout the array and adjusts to achieve optimum string levels.

The SM3320 includes a highly integrated, 99.5 percent efficient, 350 Watt tri-mode power converter. To achieve maximum energy harvest, the SM3320 can either boost, pass-through or lower the voltage of each panel. Options include fire safety panel shut-off and a set of sophisticated safety mechanisms. The SM3320 is released to market with UL and CE component-level certification and is in volume production.

The board-level system, measuring 5 inches by 3.5 inches by 0.5 inches and weighing approximately 6.4 ounces, easily fits into a solar panel junction box. It is currently being integrated into junction box and module-level partners with their product releases starting at Intersolar Europe and continuing through the rest of the year.

For more information, visit http://bit.ly/SM3320.

Pricing and Availability

Pricing for National's SM3320-1A1 board-level system and SM3320-REF chipset is based on the solar industry standard measure of dollar-per-watt. National's SM3320 is available now and is priced at less than 12 cents per watt, depending on volume. For more information about National's SolarMagic products or to place an order, visit www.solarmagic.com.

About National Semiconductor

National Semiconductor is a leader in analog power management technology. Its products include easy-to-use integrated circuits, PowerWise products that enable more energy-efficient systems, and SolarMagic products which improve the energy output of solar arrays. The company celebrated its 50th anniversary last May. Headquartered in Santa Clara, Calif., National reported sales of $1.46 billion for fiscal 2009. Additional information is available at www.national.com.

National Semiconductor is a registered trademark and SolarMagic is a trademark of National Semiconductor Corporation. All other trademarks are the property of their respective owners.

Gayle Bullock

National Semiconductor Public Relations

3689 Kifer Road, M/S G1-124

Santa Clara, CA 95051

Tel: (408) 721-2033

Cell: (408) 464-2516

Fax: (408) 721-3238

Email: gayle.bullock@nsc.com

Press Room: http://national.com/company/pressroom/

More from Printing & Duplicating Equipment