Power Inlet Filters operate at 60 Amps.
Press Release Summary: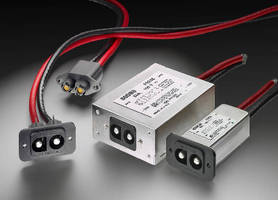 UL recognized and CSA/TUV certified, Corcom DB Series operates at 60 A, 150 Vdc in filtered versions, and up to 300 Vac/Vdc in unfiltered version. Power inlets feature 2-position keyed input receptacle connectors with No. 6 AWG hi-flex stranded lead terminations, while mating plugs have pre-terminated, hi-flex wire of various lengths. Filtered models include basic clean-up DBJ style, as well as DB and DBX styles, which provide up to 68 dB insertion loss within 150 kHz to 30 MHz range.
---
Original Press Release:

Tyco Electronics Launches New Family of Corcom DB Series Power Inlet Filters



-- Product Line Designed to Operate at 60 Amps--

HARRISBURG, Pa. -- October 23, 2009 -- A new family of power inlet filters, the Corcom DB series, has been designed by Tyco Electronics to provide reliable performance in a compact assembly. This UL recognized and CSA/TUV certified product line is suitable for high-current DC applications, power distribution channels, and telecom, automotive, network and industrial equipment.

The power inlets are designed to operate at 60 amps of current at 150 volts DC in filtered versions, and up to 300 volts AC or DC in the unfiltered version. The power inlets feature two-position keyed input receptacle connectors with #6 AWG hi-flex stranded lead terminations. Mating plugs are offered with pre-terminated, hi-flex wire of various lengths, and are designed to provide low insertion force for ease of mating. The receptacles use Tyco Electronics' #4 AWG ELCON "drawer-style" contacts.

Product offerings for the filtered versions include the basic clean-up DBJ style through the higher performing DB and DBX styles which provide up to 68dB insertion loss within the 150 kHz to 30Mhz frequency range. Higher frequencies are addressed with the DBF style. Proven ELCON crimp terminations suitable for telecommunication applications are used in all styles.

For product specifications or drawings on the Corcom DB series family of power inlet filters, contact Tyco Electronics' Product Information Center at www.tycoelectronics.com/help or visit the Corcom website at http://www.corcom.com/Series/DC/DB/.

ABOUT TYCO ELECTRONICS

Tyco Electronics Ltd. is a leading global provider of engineered electronic components, network solutions, specialty products and undersea telecommunication systems, with fiscal 2008 sales of US$14.4 billion to customers in more than 150 countries. We design, manufacture and market products for customers in a broad array of industries including automotive; data communication systems and consumer electronics; telecommunications; aerospace, defense and marine; medical; energy; and lighting. With approximately 7,000 engineers and worldwide manufacturing, sales and customer service capabilities, Tyco Electronics' commitment is our customers' advantage. More information on Tyco Electronics can be found at http://www.tycoelectronics.com/.

Corcom, ELCON, TE Logo and Tyco Electronics are trademarks.

Rachel A. Sigamony
Marketing Services Coordinator
Tyco Electronics
Communications and Industrial Solutions (CIS)
Mail Stop 128-051
717-986-7761 tel
rachel.sigamony@tycoelectronics.com

More from Optics & Photonics