Power Connectors link industrial machinery.
Press Release Summary: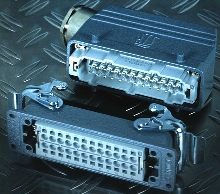 HTS pin-and-socket connectors are comprised of outer shell, mated pair of contact inserts, and contacts. Outer shells are die cast aluminum or zinc and are available with several latching mechanisms. Shell sizes accommodate contact ranges from 3 to over 100. Shell styles include surface mount, panel mount, and inline. Most inserts are suitable for 10 to 150 A. They are UL, CSA, and SEV approved. Contact styles include screw connection, spring clamp, or crimp.
---
Original Press Release:

HTS Power Connectors From Tyco Electronics Provide Rugged Link Between Industrial Machinery


HARRISBURG, Pa., April 25 - The HTS line of connectors from Tyco Electronics is a metal-shell, pin and socket connector suitable for a variety of industrial applications. Connectors are comprised of a metal outer shell, a mated pair of contact inserts and contacts. Designers can select from several shell styles including surface mount, panel mount and inline. The contact inserts determine the number of contacts for a given connector size. Designers can also select from a range of contact styles. These connectors provide a robust system for linking semiconductor manufacturing equipment, injection molding equipment and other industrial machinery.

The outer shell is constructed of either die cast aluminum or zinc and can be equipped with several latching mechanisms. Depending on the version, they carry IP44, IP65 or IP68 protection against ingress of fluids or debris. Twelve shell sizes accommodate contact ranges from three up to over two hundred. Locking system options include a latching mechanism on the hood and/or base, dual side clip latching, a single central latch or a screw-type locking system. A line of shells is designed to minimize electrical interference and another special design is pressure tight up to 20 bar.

The contact inserts are designed to retain the contacts and provide wire management at the connector interface. Some inserts carry current ratings up to 350 amps, but most of the inserts are suitable for between ten and 150 amps. The inserts are UL, CSA and SEV approved and meet many automotive industry manufacturing specs.

Designers can select from three basic contact styles: screw connection, spring clamp connection or crimp connections. The screw connection is the most popular style since it requires minimal wire preparation and allows for field repairs. The spring clamp style provides an economical, simple to handle option for connecting wire to the contact. Crimping provides yet another method to attach the contact to wire. Crimp contacts accommodate solid or stranded wire and can be terminated using hand tools or semi-automatic assembly equipment. Most contacts are constructed of copper alloy with silver plating.

For more information on HTS connectors, contact Tyco Electronics' technical support center at 1-800-522-6752 or send e-mail to newproducts@tycoelectronics.com. More information on the web at www.tycoelectronics.com

ABOUT TYCO ELECTRONICS
Tyco Electronics is one of the major business units of Tyco International (NYSE: TYC, LSE:TYI, BSE: TYC). Headquartered in Harrisburg, Pennsylvania, USA, Tyco Electronics is the world's largest passive electronic components manufacturer, and a world leader in cutting-edge wireless technologies, fiber optic active components, and complete power systems. The company has facilities located in 51 countries serving customers in the aerospace, automotive, computer, communications, consumer electronics, industrial and power industries. Tyco Electronics
provides advanced technology products from over thirty well-known and respected product brands, including Agastat, Alcoswitch, AMP, AMP Netconnect, Buchanan, CoEv, Critchley,
Elcon, Elo TouchSystems, HTS, M/A-COM, Madison Cable, OEG, Potter & Brumfield, Raychem, Schrack, Simel and TDI Batteries.

More from Machinery & Machining Tools