Power Connectors are designed for use in MicroTCA systems.
Press Release Summary: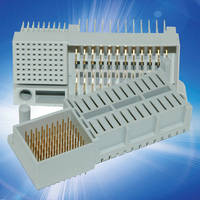 Compliant with PICMG specification, MicroTCA power connectors feature 72 signal pins, along with 24 power contacts for transmission of more than 11 A. Angled male connector is used on Advanced Mezzanine Cards for blind plugging, where as straight version of female connector is installed on backplane. Products are hot-swap capable due to leading and lagging contacts.
---
Original Press Release:

Safe Power Transmission with New MicroTCA Power Connectors



Munich, February 2009 - Yamaichi Electronics now offers power connectors for use in MicroTCA systems

Embedded computing systems based on the MicroTCA standard (Micro Telecommunications Computing Architecture) are now used not only in the telecommunication sector, but also in areas like industry, the military, and traffic or medical technology.

The PICMG MicroTCA.0 basis specification relies on the use of Advanced Mezzanine Cards (AMC). The small footprint of the AMC allows systems to be built in extremely compact and robust form. For shelf management, the system can be assembled with an MCH plug (MicroTCA Carrier Hub). Yamaichi offers suitable connectors that are especially notable for their high-speed transmission properties. Further information is available using the keyword AdvancedCMT at www.advanced-cmt.com.

Besides high-speed signal connectors, Yamaichi also has MicroTCA power connectors in its product line.

MicroTCA power connectors are implemented as a 96-pin version and are compliant with the PICMG specification. Besides the 72 signal pins, there are 24 power contacts available for transmission of more than 11A. The robust plug housing design allows blind plugging. The angled male connector is used on the Advanced Mezzanine Cards for this purpose; a straight version of the female connector is installed on the backplane. Due to the leading and lagging contacts, the connectors are hot-swap capable. Standard press-fit tools can be used to mount them onto the backplane or the Advanced Mezzanine Card.

For any product queries, please contact Manuela Sprich: manuela.s@yamaichi.de

About Yamaichi Electronics
Yamaichi is a market leader for test & burn-in sockets, connectors and connection systems - areas in which reliability and function safety are essential for the success of the whole project. Yamaichi has established itself very quickly on the world market as a manufacturer of high-quality and reliable components for ambitious applications in the following sectors: telecommunications infrastructure, industrial automation, mobile computer technology, mobile telephones, GPS systems, printers, digital cameras, camcorders, as well as electronic devices in the retail trade, industry and electronics.

Yamaichi Electronics Deutschland GmbH
Karl-Schmid-Str. 9, 81829 München, Germany
Tel. +49 (0)89 - 4 51 09-0
Fax: +49 (0)89 - 4 51 09-110
www.yamaichi.eu

More from Software