Applicator / Finishing / Cleaning Brushes
Power Brushes accommodate many applications.
Press Release Summary: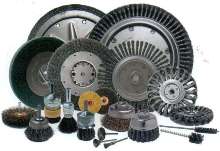 Wheel, cup, end, tube, and strip brushes are filled with high-tensile, oil-tempered steel; stainless steel; brass; and other non-ferrous wires, as well as synthetic and natural fibers. Manufactured in knot and crimped styles, brushes are offered in standard sizes, shapes, and wire diameters; custom-order brushes are also available. Applications include cleaning, deburring, surface finishing, roughening, and edge blending.
---
Original Press Release:

One Stop Power Brush Solutions


Anderson Products continues to stand by its commitment to consistently offer a complete line of quality power brushes to accommodate all application purposes, most commonly cleaning, deburring, surface finishing, roughening, and edge blending.

The power brush offering, including wheel, cup, end, tube, and strip brushes, are filled with the finest high tensile, oil-tempered steel, stainless steel, brass and other non-ferrous wires, and a variety of synthetics and natural fibers. Also, Anderson power brushes are manufactured in both the knot-style for heavy-duty brushing and crimped-style for lighter applications. Each type of brush is designed for the manner in which it is most customarily utilized, established through the rigorous research and design modifications of our product development and engineering teams. For example, Anderson's cup brushes are specifically designed for use on high-speed electric tools, drill presses and pipeline machinery for fast, heavy-duty cleaning of large, metal surfaces.

Although each line is available in a wide range of sizes, shapes, and wire diameters, it is realized that, at times, the standard product offering doesn't suit individual needs. Anderson Products specializes in custom-order brushes, constructed to meet customer specifications of brush description, including type, diameter, wire size, face width, trim length and arbor hole size, always ensuring that they live up to their commitment of being the customer's greatest resource.

Anderson Products also offers an extensive line of abrasive products, industrial brushes and maintenance products.

For additional information, contact your nearest Anderson distributor, or contact: Anderson Products, 1040 Southbridge Street, Worcester, MA 01610 o Toll free (800) 755-6101 o FAX: (800) 729-4694 www.andersonproducts.com.

DATE: December 1, 2003 FOR RELEASE: IMMEDIATELY
CONTACT: Eric Aho PHONE: (800) 755-6101, ext. 3017

More from Software