Power and Computing Platforms meet OEM requirements.
Press Release Summary: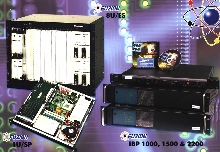 FUZION integrated power and computing platforms offer scalable open standards-based solutions for telecom, network, broadcast, CTI and medical/industrial sectors. eFUZION range offers 1U, 2U, 4U and 8U platforms comprising both ISA/PCI and CompactPCI architectures. nFUZION line is available in 4U and 8U CompactPCI versions and meets stringent space requirements. pFUZION includes On-Line Rack UPS, Rack UPS and Slim Line Rackmout UPS, all with power management software.
---
Original Press Release:
I-Bus/Phoenix Launches Fuzion, Integrated Power And High Reliability/High Availability Computing Solutions

* Positioned at the apex of market convergence in Telecom, Network, Broadcast, CTI and Medical/Industrial applications
* Building block system components combine application specific needs with a base of integrated power and computing products
* Scalable, reliable, open standards-based solutions delivered into the market with unprecedented speed and efficiency
* Environment + Application = an Architecture "Fit for Use"

San Diego, CA - I-Bus/Phoenix announces the launch of FUZION, a new range of application ready, high reliability integrated power and computing platforms designed using flexible building blocks that address the present and future needs of converging technologies in the global marketplace. FUZION offers scalable, high availability open standards-based solutions designed for environments ranging from the corporate office to the central office. Additional, pre-qualified extensions allow the OEM to specify the level of platform needed to bring the highest value to their applications.

Geared towards Telecom, Network, Broadcast, CTI and Medical/Industrial sectors, FUZION combines the company's extensive knowledge of market specific needs with a deep technological base of integrated power and computing products.

The initial FUZION release includes over a dozen platforms, supporting both Pentium and SPARC processor architectures and multiple operating systems including WindowsNT, Windows2000, Linux and Solaris. By offering products and services that meet a wide range of OEM customer requirements, the FUZION product line provides for better than industry-average delivery times at extremely competitive value points.

FUZION platforms consist of three distinct product groups including eFUZION and nFUZION high reliability/high availability computer platforms and pFUZION power protection systems.

The eFUZION range addresses the needs of enterprise environments, offering rugged, cost-effective solutions that are scalable, flexible and dependable. A choice of 1U, 2U, 4U and 8U platforms is available, comprising both ISA/PCI and CompactPCI architectures. Delivery times for eFUZION platforms, with a select but comprehensive options set, establish new standards for the industry, allowing customers to accelerate their product development schedules and get to market faster.

The nFUZION line meets the stringent space and environmental requirements of the network core, cable head end, telecom central office, wireless remote base station and densely packed data center. 4U and 8U CompactPCI solutions are currently available. With a wide range of high availability options and superior maintenance strategies, nFUZION platforms are designed to meet the needs of mission critical applications where "five nines" availability is essential.

pFUZION provides standard features that ensure superior reliability to allow OEMs, VARs and Systems Integrators to build UPS protections into their critical server solutions. This line includes an On-Line Rack UPS, Rack UPS and Slim Line Rackmount UPS, all with power management software, offering customers a fully integrated solution for power and computing.

"FUZION allows us to transform highly flexible building block platforms into solutions that fit the exact needs of the customer," says John Werderman, President of I-Bus/Phoenix. "We offer full OEM product development, based on our Total OEM Program Support (TOPS) process, with approvals/configuration management, testing, system integration, technical support, maintenance strategies and product branding. In short, a total systems design solution from concept through manufacturing and delivery to the global marketplace.

I-Bus/Phoenix is an ISO-9001 quality-certified world leader in the design, manufacture and support of high performance, industrial-grade power and computing systems. In addition, I-Bus/Phoenix offers customized, partner-oriented services focused on meeting the needs of OEMs including purchasing collaboration, stable supply-chain management, configuration control, and complete system integration and test services. With our "Best of Breed" partners program, we offer complete application ready solutions utilizing technologies developed both in-house and by third party industry leaders, delivered in a collaborative environment to provide the OEM customer a level of global support that ensures success, allowing OEMs to focus on their core competencies, rather than on managing a diverse set of independent vendors.

More from Packaging Products & Equipment