Power Amplifier (8 W) targets S-Band radar applications.
Press Release Summary: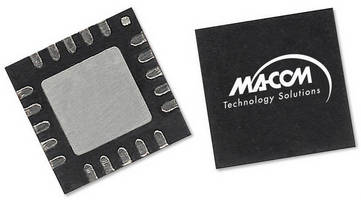 Operating over 2.5-3.5 GHz range, MAAP-010171 two-stage, 8.0 W, pulsed power amplifier is fully matched to 50 ohms on input and output. Device is 100% RF tested to ensure performance compliance and fabricated using pHEMT Process. Packaged in 5 x 5 mm, 20-Lead PQFN package to facilitate assembly, product offers 27 dB gain and 38% power added efficiency. Device can be used as power amplifier stage or driver stage in high power pulsed radar applications.
---
Original Press Release:

M/A-COM Technology Solutions Announces New 8-Watt Power Amplifier



S-Band Amplifier Exhibits Strong Linear Gain and High Efficiency

Lowell, MA - M/A-COM Technology Solutions Inc. (M/A-COM Tech), a leading supplier of high performance analog semiconductor solutions, introduced today a new power amplifier for S-Band radar applications.

Operating between the 2.5 GHz - 3.5 GHz S-Band frequency range, the MAAP-010171 is a 2-stage, 8.0 W pulsed power amplifier. The MAAP-010171 is fully matched to 50 ohms on both the input and output.

Each device is 100% RF tested to ensure performance compliance. The part is fabricated using M/A-COM Tech's high linearity pHEMT Process. With gain of 27dB and efficiency of 38%, the MAAP-010171 is packaged in 5x5mm 20-Lead PQFN package, allowing for easy assembly.

"This device is an integral part of our S-Band radar product portfolio," said Scott Vasquez, Product Manager. "With its 8 Watt saturated output power, 27dB gain, and 38% power added efficiency, the MAAP-010171 is well positioned to be used as a power amplifier stage or as a driver stage in high power pulsed radar applications."

The table below outlines typical performance:


Parameters           Units   MAAP-010171

Gain              dB     27

Input Return Loss        dB     10

Output Return Loss       dB     10

Psat              dBm    39

Small Signal Current (IDD)   A     1

Efficiency           %     38

Production quantities and samples of MAAP-010171 are available from stock. Final datasheets and additional product information can be obtained from the M/A-COM Tech website at: www.macomtech.com

ABOUT M/A-COM TECHNOLOGY SOLUTIONS INC.
M/A-COM Technology Solutions (www.macomtech.com) is a leading supplier of high performance analog semiconductor solutions for use in radio frequency (RF), microwave, and millimeter wave applications. Recognized for its broad portfolio of products, M/A-COM Tech serves diverse markets, including CATV, wireless infrastructure, optical communications, aerospace and defense, automotive, industrial, medical, and mobile devices. M/A-COM Tech builds on more than 60 years of experience designing and manufacturing innovative product solutions for customers worldwide.

Headquartered in Lowell, Massachusetts, M/A-COM Tech is certified to the ISO9001 international quality standard and ISO14001 environmental management standard. M/A-COM Tech has design centers and sales offices throughout North America, Europe, Asia and Australia.

M/A-COM, M/A-COM Technology Solutions, The First Name in Microwave and the M/A-COM logo are trademarks of M/A-COM Tech. All other trademarks are the property of their respective owners.

FOR SALES INFORMATION, PLEASE CONTACT:
North Americas -- Phone: 800.366.2266
Europe -- Phone: +353.21.244.6400
India -- Phone: +91.80.43537383
China - Phone: +86.21.2407.1588

MEDIA CONTACT:
Husrav Billimoria
M/A-COM Technology Solutions Inc.
978-656-2896
Husrav.Billimoria@macomtech.com

More from Sensors, Monitors & Transducers