Powder Processing & Technology, LLC Commissions New Emission Control Unit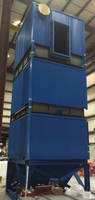 "PPT now has the ability to handle high-temperature processing of materials that evolve NOx"



Valparaiso, Indiana - Powder Processing Technology, LLC, located in Valparaiso, IN, is a process development and custom processing company specializing in the processing of ceramics and inorganic chemicals. It has worked with many of the world's leading materials technology companies in their quest to commercialize best in class materials technology.



Responding to demand from various industries for processing materials that emit nitrogen oxide (NOx), Powder Processing and Technology (PPT) has added advanced emission control capability to support its growing client base. The Tri-Mer emissions control unit, based on catalytic ceramic filters, is the state-of-the-art technology for processes that emit NOx. The unit has been fully commissioned and has demonstrated the ability to handle NOx emissions in the range of two to fifty pounds per hour with NOx destruction efficiency adjustable up to 95%. The Tri-Mer unit also captures particulate – PM10, PM2.5, and submicron PM – to over 99% efficiency.



The Tri-Mer unit is currently installed on one of PPT's one meter diameter rotary calciners, with plans to add further processing equipment in the future to provide even more capacity. The Tri-Mer technology, already in operation on large kilns and furnaces across the U.S and Europe, is fully scalable for industrial applications.



The DeNOx ceramic filters utilize select catalytic reduction (SCR). The technology breakthrough consists of embedding the catalyst in a micronized form within the filter walls.  This creates an enormous surface area for the catalytic action and is a factor in allowing the DeNOx reaction to occur at temperatures as low as 205ºC (400ºF).  Consequently, PPT can handle a broad range of conditions and concentrations of evolved NOx.  Current capabilities of the equipment include handling both powdered feedstock as well as formed materials at temperatures up to 1100ºC (2000ºF).  The Tri-Mer equipment can easily be modified to remove sulfur oxides (SOx), hydrochloric acid gas (HCl), dioxins, mercury and other pollutants. PPT would welcome the opportunity to work with you to determine the best approach for your process.



PPT is proud to offer the capability to process a wide variety of materials, using the latest technology in an environmentally friendly way.  Let us work with you to bring your new technology to the marketplace and provide support for your corporate growth plans. Please contact us at sales@pptechnology.com to discuss your project needs and for further information.  We look forward to partnering with you soon.

More from Material Handling & Storage