Potentiometric Titrator can run 4 stations in parallel.
Press Release Summary: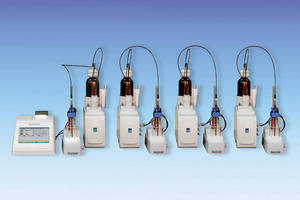 Featuring high-speed communications with no response time lag, compact COM-1700 runs up to 4 different titrations in parallel and provides results in real-time. Buret design allows quick and automatic reagent exchange, while sample changer accommodates wide selection of test tubes, beakers, and conical flasks. Equipped with built-in thermal printer and large color touchscreen, titrator provides real-time pH calibration and stability and offers data storage on USB jump drive.
---
Original Press Release:

Titrator Can Run Four Stations in Parallel!



Application

o Potentiometric Titration

JM Science's new Potentiometric Titrator (COM-1700) allows up to four different titrations to run in parallel at the same time! The COM-1700 has reliable high-speed communications with no response time lag and results appear in real-time. The compact design reduces bench space by 25%. The new buret design allows automatic reagent exchange quickly and efficiently. Longer-life syringe with top dead-center rest position with minimized dead-space and buret head position sensor eliminates improper assembly. The new sample changer accommodates a wide selection of test tubes, beakers and conical flasks. It also is equipped with an auto shut-down function.

Large sized color touch screen allows for easy monitoring of any station and provides for real-time pH calibration and stability. One may easily store data on a USB jump drive. Reading, recalculation and redetection of titration results, and use of data by using other application software is possible by simply downloading the data to a laptop or PC for storage or processing. Data may then be exported to any of several types of file formats including Excel, CSV, HTML, etc. The New COM-1700 also has a built-in thermal printer with easy paper-loading features.

For more information contact us at 1-800-495-1678 or visit us at www.jmscience.com


Related