Positive Lock System provides workpiece holding solution.
Press Release Summary: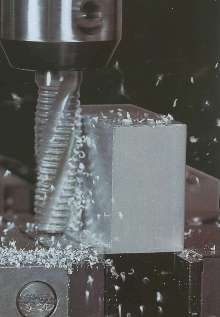 Positive Lock system creates form-locking connection between vise jaws and workpiece. Indentations on workpiece interlock with corresponding serrations on vise jaws, resulting in hold that will not shift. Only 0.12 in. of material is in vise, and near-complete 5-sided access is made available without re-clamping. Rough hot-rolled and saw-cut stock can be used in place of pre-milled pieces.
---
Original Press Release:

New Positive Lock System Revolutionizes Workpiece Holding


Developed under real manufacturing conditions to save time, material, and production costs, the patented Positive Lock system offers an innovative solution for workpiece holding that is easy to implement, very secure, and is fast and easy to use.

A typical vise clamps between two smooth jaws and relies on friction between the jaws and workpiece. Friction itself is unreliable and unpredictable; as a result, secure clamping requires a generous clamping area and high force.

Instead of relying on friction, the Positive Lock system holds workpieces by creating a form-locking connection between Positive Lock vise jaws and a workpiece. Indentations on the workpiece (embossed in seconds using a low-cost workstation) interlock with corresponding serrations on the vise jaws. The result is a super-secure hold that will not shift even though typically only 0.12" of material is actually in the vise.

Real benefits can quickly be realized. Using the Positive Lock system, the entire workpiece preparation process takes only three to five seconds and does not take up valuable machine time. In comparison, milling of reference surfaces requires an enormous amount of time and ties up an expensive machine.

Raw material costs are often reduced because rough hot-rolled and saw-cut stock can be used in place of pre-milled pieces. In addition, less material is often needed because of the minimal holding area. The minimal holding area also allows for near-complete 5-sided access to a workpiece without re-clamping.

Another advantage of the Positive Lock system is the reduced clamping force needed: approximately one-tenth of what is normally used to hold a work piece. As a result, workpiece deformation is virtually eliminated, leading to more accurate parts. Thin workpieces can also be held without deformation.

The Positive Lock system makes loading workpieces in a machine fast, simple, and accurate. Positioning is so accurate that workpieces can even be removed and re-inserted with up to 0.0005" repeatability.

Nearly any surface can be held: a rough sawn part, hot rolled steel, even slightly non-parallel surfaces. Most non-brittle materials are compatible, including: steel, aluminum, cast iron, copper, brass, plastic, titanium, magnesium, and others. Even normally hard-to-hold materials such as Teflon become easy to hold.

Implementation of the Positive Lock system is fast and straightforward. Jaws are available for Kurt and other standard vises, allowing parts to be made without even removing the vise from the machine. The system is ideal for use in conjunction with other workpiece set-up devices such as pallets, tombstones, etc.

The Positive Lock workpiece holding system is available from TAC Rockford. TAC Rockford supplies innovative products for the machine tool industry, including workpiece holding systems, HSK tool holders, machine tool gages, and accessories. For more information, please contact Kevin Holdmann at 815-282-6075 or send e-mail to krh@TACRockford.com.

Related