Position Sensors / Detectors / Transducers
Position Sensors suit servo control applications.
Press Release Summary: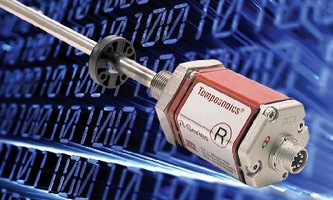 Based on Tempsonics® magnetostrictive sensing technology, R-Series SSI Encoder Position Sensors features 1 micron resolution, which is factory or field adjustable from 1-100 µm. Units offer optional data update rate of 240 µsec synchronized with external control clock, regardless of stroke, with as few as 16 µsec between measurement data clock cycles. Available with RF or NEMA Type 4X housing, sensors are suited for use in machine tool and metals production.
---
Original Press Release:

MTS Develops Sensor for High-Performance Industrial Servo Control Applications



Improved R-Series SSI sensor features faster data processing, more accurate sensing ...

CARY, N.C. (March 26, 2007) - MTS Systems Corp., Sensors Division has developed a new R-Series SSI encoder position sensor that features faster data processing and more accurate sensing for servo control applications in the automation industry, providing customers with a high-performance sensor in a durable industrial package.

The new design is based on MTS' Temposonics® magnetostrictive sensing technology and provides the same absolute serial encoder interface that is widely used in computer numerically controlled (CNC) and motion controls in factory automation applications. The MTS R-Series SSI sensor is ideal for use in machine tool and metals production including rolling mills, die casting, punching and stamping, as well as plastics injection and blow molding, and motion simulation and entertainment platforms, particularly those that utilize electromechanical actuation such as linear motors.

"We have enhanced the design of our SSI product to expand its use in motion control and CNC applications in the factory automation industry," said Temposonics Marketing Manager, David Edeal. "Using the new smart sensor product platform, we are able to provide a superior performance and capability set along with improved reliability and durability, all in a smaller package and at a lower cost."

The SSI output of the new R-Series sensor product is faster, with an optional data update rate of 250 µsec synchronized with an external control clock, regardless of stroke, with as few as 16 µsec between measurement data clock cycles. MTS' proprietary synchronization technology guarantees the most accurate position output while minimizing inherent system-related delays to produce smooth, precise velocity loop control. MTS has also added two additional output options for the SSI sensor - one that measures the difference between two position magnets and one that measures sensor speed.

The new R-Series SSI product features improved precision, with position sensing resolution as low as 1 micron (0.00004 in). The resolution is factory-or field-adjustable from 1 to 100 µm. A built-in measurement non-linearity correction improves the sensing accuracy to as low as +/-10 µm, depending on the mechanical application package. For standard precision, the standard RH (hydraulic rod) and RP (external mount) sensing packages can be used with conventional sensing magnets. For higher precision, custom matched position markers can be used to achieve as low as +/-20 µm accuracy. The highest precision is achieved using our RP design with a proprietary sliding style magnet matched to the sensor assembly.

As with all of the MTS R-Series products, LEDs indicate normal operation, magnet not detected, missing external interrogation signals or insufficient or out-of-range input power to facilitate and minimize troubleshooting efforts and downtime that might otherwise be associated with the sensor. System design flexibility and field adjustability of data format, position resolution, and polarity and synchronization parameters are facilitated with easy-to-use PC interface programming software.

Additional R-Series Capabilities
The R-Series SSI product is available with a variety of approved application-specific mechanical housing options. The RF (flexible sensing element) housing is available for longer stroke lengths (up to 10 m) or applications with limited space for installing the sensor.

The NEMA Type 4X housing can be ordered for applications where sensor washdown is required and MTS' patented high shock and vibration package is available along with our ATEX and UL-approved explosion-proof housings for use when the SSI output is necessary in extreme environmental applications.

The Temposonics R-Series product family also includes current and voltage analog outputs, with an option for programmable dual position and/or velocity channels with a maximum velocity range of up to 10 m/sec. (40 in/sec.) and resolution as low as 0.1 mm/sec (0.004 in./sec.). R-Series CANbus and Profibus DP industrial network sensors are capable of sensing up to 15 magnet positions and five magnet velocities simultaneously along a single axis. This capability is used to eliminate the need for multiple linear or discrete sensors in applications where multiple tools or working elements are positioned along the same axis, thereby simplifying design efforts and reducing costs.

For more information on Temposonics R-Series Sensors, please contact: MTS Systems Corp, Sensors Division, 3001 Sheldon Drive, Cary, NC 27513. Phone: (919) 677-0100. E-mail: info@mtssensors.com or visit their web site at www.mtssensors.com.

MTS Sensors, a division of MTS Systems Corp., is the global leader in the development and production of magnetostrictive linear-position and liquid-level sensors. Based on MTS' patented Temposonics® technology, the Sensors Division is continually developing new ways to apply magnetostrictive sensing technology to solve critical applications in a variety of markets worldwide. With facilities in the U.S., Germany and Japan, MTS Sensors Division is an ISO 9001 certified supplier committed to providing innovative sensing solutions that deliver customers with reliable, cost effective sensing devices.

More from Machinery & Machining Tools