Position Sensors / Detectors / Transducers
Position Sensor offers loop-powered 4-20 mA operation.
Press Release Summary: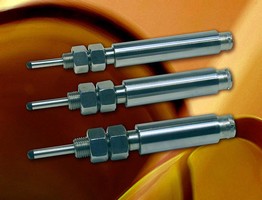 Operating over wide range of loop supply voltages and with loop resistances up to 800 W, GHSI 750 Series spring loaded position sensors can be installed in hazardous locations. Sensors consist of spring-loaded shaft running in precision sleeve bearing and connected to core of LVDT. Available in ranges of +.100 to +4.00 in., dc-operated, 2-wire units offer 0.000025 in. measurement repeatability and fp0.10 maximum linearity of full range output.
---
Original Press Release:

Loop Powered 2 Wire 4-20 mA Spring Loaded Position Sensors Are Ideal for Industrial Gaging and QC Data Collection Systems



Pennsauken, NJ, April 8, 2008 Macro Sensors, (www.macrosensors.com), a sensor company specializing in the manufacture of LVDT-based linear sensors and gaging probes, offers a DC-operated position sensor that is spring-loaded and offers a two-wire, loop powered 4 20 mA operation commonly used with current-operated process controllers and recorders. Built-in loop powered electronics result in a position sensor that operates from a DC input and generates a 4-20 mA output that interfaces with many PLCs, computer-based data processors, and QC data collection systems. Operating over a wide range of loop supply voltages and with loop resistances up to 800 ohms, GHSI 750 Series position sensors are ideal for use in machine tool inspection, go/no/go inspection, and statistical quality control info or as part of a closed-loop control system.

GHSI 750 Series position sensors are also ideal for remote sensing applications in which AC power is not readily available to operate external signal conditioning. Hermetically sealed and constructed entirely of stainless steel, the coil windings are sealed against hostile environments to IEC standard IP-68. These position sensors can be installed in hazardous locations while the wiring connected to power supplies, indicators and controllers are in a safe environment.

GHSI 750 Series position sensors consist of a spring-loaded shaft running in a precision sleeve bearing and connected to the core of an LVDT. The use of a precision-sleeve bearing results in measurement repeatability of 0.000025 inches (0.6 fªm) or better. A spring-extended plunger is guided by precision sleeve bearings. The probe shaft is fully extended by a spring exerting a nominal force of 6 to 20 ounces depending upon total range. Macro Sensors supplies an AGD standard number 9 contact tip that is made from chrome plated hardened tool steel. It is fully interchangeable with other AGD contact tips.

Available in ranges of +.100 inch (+2.5 mm) to +4.00 inches (+100mm), the maximum linearity error for a GHSI 750 Series position sensors is fp0.10 of full range output using a statistically best-fit straight line derived by the least squares method.

For simplified mounting the GHSI 750 position sensors have a 1/2-20 UNF 2A thread on the front of the housing, permitting the user to install the LVDT in a mating threaded part or by using the two hex nuts furnished with the sensor. This results in a ready-to-use package for position measurements and longer range gaging applications.

For more information on the GHSI 750, please refer to our web site at macrosensors.com/lvdt_macro_sensors/lvdt_products/4-20mA_2wire_loop_powered/ghsi_750_spring_loaded_loop_powered.html or contact the factory at sales@macrosensors.com

About Macro Sensors
Macro Sensors extensive line of LVDT-based linear and rotary sensors are used for linear position measurement and feedback in a variety of industrial applications including factory automation, motion control systems, metal fabricating, automotive assembly as well as power plants, gas/steam turbines. Incorporated in 1994, the Company offers more than 200 years of cumulative design and manufacturing experience by its key staff in serving its OEM and end-user international customer base. On June 1, 2005, Macro Sensors was acquired by AST, manufacturer of state-of-the-art Micro-Electro- Mechanical- Structures (MEMS) based pressure sensors, transducers, and transmitters. Common applications of AST sensor products are in industrial OEM, hydraulic systems, fuel cells, medical gases, HVAC/R, refrigeration, oil & gas exploration/production, and off-road vehicles. For more information on AST products and technology, visit the AST website at www.astsensors.com.

U.S. Route 130 North, Bldg. 22,
Pennsauken, NJ 08110-1541
Tel: 856-662-8000
Fax: 856-317-1005

Engineering Contact:
Harold Schaevitz /
856-662-8000/
harolds@macrosensors.com

More from HVAC