Position Control Hinge delivers one-way motion.
Press Release Summary: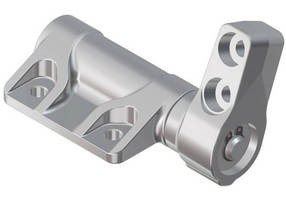 Holding solidly against gravity in downward direction while remaining upwardly adjustable, PHT Position Hinge offers alternative to prop rods or similar devices. One-way torque technology eliminates almost all torque required to move hinge in one direction without compromising holding force in other direction, and ReellTorq® clip technology ensures smooth, precise position control. One-direction torque ranges from 2.0–6.0 N-m, and torque in opposite direction remains constant at 0.5 N-m.
---
Original Press Release:

Reell's New 'PHT Position Hinge' Uniquely Delivers 'One-Way' Motion



The new "PHT Position Hinge" from Reell Precision Manufacturing introduces an ideal solution for high-performance position control applications by providing reliable holding force in one direction while enabling easy adjustment with virtually no resistance in the other.  This unique hinge delivering "one-way" motion especially suits vertical adjustment applications by holding solidly against gravity in the downward direction and adjusting effortlessly in the upward direction.  Typical applications include enclosures, lids, and covers; access panels; flat panel monitors; laptop computers; and many others in the industrial, medical, office, and electronics equipment marketplace.  Ultimately, this hinge will serve as a more practical, cost-effective, and safe alternative to prop rods or similar devices that can obstruct or fail.



The optimized performance of the PHT Position Hinge results from patent pending "One-way" torque technology developed and engineered exclusively by Reell.  The advanced technology eliminates almost all the torque required to move the hinge in one direction without compromising holding force in the other.  The hinge additionally benefits from patented ReellTorq® clip technology for a premium quality feel and smooth and precise position control without requiring adjustment during installation.



The PHT Position Hinge features a flag-style mounting design and delivers a full 360º range of available rotation with minimal freeplay.  The hinge can be specified with one-direction torque from 2.0 N-m to 6.0 N-m / 17.7 lb-in to 51.1 lb-in (torque in the opposite direction remains constant at 0.5 N-m).  Hinges feature a plain zinc finish and hardened steel shaft and torque elements and install quickly using an M4 or #8 screw or equivalent.



Detailed specifications and CAD models for the PHT Position Hinge can be accessed at www.Reell.com and custom products can be engineered to meet application demands.



Founded in 1970, Reell Precision Manufacturing Corporation is a world leader in small-package position control offering a diverse portfolio of positioning hinges, wrap spring clutches, torque inserts, and precision springs and wire forms.



Contact

John Schannach

Reell Precision Manufacturing Corporation

1259 Willow Lake Boulevard

St. Paul, MN 55110-5103 USA

Phone: 651-486-3333

Fax: 651-484-3867

Email: info@reell.com 

Web site:  www.Reell.com



More from Construction Equipment and Supplies