POS Touchscreen System features zero-bezel design.
Press Release Summary: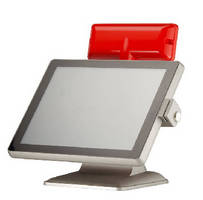 Based on Intel Pineview D-410/D-510 CPU that supports up to 2 GB DDRII memory, VariPOS(TM) 715 features scratch-resistant 15 in. color TFT LCD with 1,024 x 768 resolution. Utilizing projected capacitive technology, screen supports multi-touch function and permits intuitive, accurate operation. I/O connections include 4 x RS-232, 4 x USB 2.0, 1 x RJ-11, 1 x RJ-45 GigE port, and 1 x printer port. Featuring IP65-rated waterproof front panel, system is suited for retail and hospitality applications.
---
Original Press Release:

Poindus Unveils the Creative Zero-Bezel POS Systems with Multi-Touch Function



Poindus' VariPOS(TM) all-in-one POS Systems with sleek zero-bezel design supports multi-touch function and Window 7

Taipei, Taiwan - Poindus Systems GmbH, the innovator in POS and industrial computing, unveils the VariPOS(TM) 715, as a new concept of POS terminal for hospitality solution. Poindus' VariPOS(TM) 715 integrated with the latest "zero-bezel" touchscreen design which is radically changing the look and feel of touchscreen technology. With a seamless screen, the VariPOS(TM) 715 touch POS system is designed for use in high-traffic retail, luxury store , hospitality and other public environments, and offer both aesthetic elegance and world-class durability.

VariPOS(TM) 715 features narrow borders around active touch-sensitive area, scratch resistant surface, and flat cabling system. The zero-bezel design removes the frame, or bezel, of standard monitors to create a seamless glass surface for better protection. Poindus' VariPOS(TM) 715 is integrated with a 15-inch (38.1cm) color TFT LCD with 1024 x 768 resolutions and high performance and low power Intel Pineview D-410/ D-510 CPU that supports up to 2GBytes of DDRII memory, and host of high speed interconnects.

Poindus' VariPOS(TM) 715 integrated with the multi-touch technology- projected capacitive technology (PCT) touch screen. The 15" touch screen used the capacitive technology which is popular at Smartphone, iPhone applications and it permits a intuitive and more accurate operation. The VariPOS(TM) 715 is housed by the robust aluminum material to ensure a complete protection for inside system. The aluminum material also guarantees efficient heat elimination, steady performance to maximize uptime and help to reduce maintenance costs. Designed for use in the hospitality environments, the VariPOS(TM) 715 front panel is rated by IP 65 waterproof certification and operated with adjustable customer display for friendly operation. Poindus' VariPOS(TM) 715 has its flexible configuration with rich I/O connections: 4 x RS-232, 4 x USB 2.0, 1 x RJ-11 (powered by 12V), 1 x RJ-45 Gigabit Ethernet port and 1 x printer port that makes VariPOS(TM) 715 to be integrated with various peripherals including MSR, customer display, iButton, fingerprint to meet perfectly into hospitality or retail applications.

Nowadays it's a big challenge for merchant to serve customer in a more efficient way and raise the turnover. Poindus helps customer to maximize the operation efficiency and minimize the "customer idle time". Poindus' VariPOS(TM) 715 features extremely steady performance by Intel® Pineview processor and exceptional energy saving. VariPOS(TM) 715 provides the customized color cover to synchronize the shop or restaurant image. This powerful computing platform is ideal for business owners who want to enhance the customer experience, speed up the employees procedure and reduce operating costs.

Poindus is committed to meeting the needs of our customers. By VariPOS(TM) 715 Poindus is answering customers' demand for a unique, stylish and high-definition alternative to traditional POS terminal.

About Poindus

Poindus Systems Corp. stands the solutions-based distribution position for interactive KIOSK, point-of-sales terminal, retail automation, HMI, panel pc, touch screen, AUTO ID, industrial panel PC, peripherals e.g. barcode scanner, magnetic stripe reader, finger print to enhance the hospitality and retail business operation efficiency. Poindus is committed to working with value-added resellers and system integrators to deliver the complete solution for industrial, medical, POS, kiosks, retail, hospitality, transportation, industrial automation markets.

For more information on VariPOS(TM) 715 products and services, please contact +886-2-77214688, or view Poindus' website at www.poindus.com or direct electronic mail inquiries to sales@poindus.com


More from Materials