Portable Vibration Analyzer has dual-channel functionality.
Press Release Summary: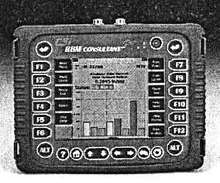 Model 2130 RBMconsultant® PRO data collector/analyzer offers embedded intelligence that guides users through data collection process and dual channel functionality for simultaneous gathering of any two vibration signals. Product automatically compensates for actual turning speed when performing in-field alarming, allowing for proper diagnosis of problems. Unit offers color display, low-noise circuitry, and PeakVue® technology, which filters out normal rotational vibration.
---
Original Press Release:

Emerson Innovations Featured In Launch of Portable Vibration Data Analyzer That Delivers Next Generation Maintenance Efficiencies


New CSI Model 2130 RBMconsultant® PRO data collector features fast acquisition and easy, guided operation for effective machinery health management of rotating equipment.

KNOXVILLE, TN (January 31, 2003) - Emerson Process Management announces the next generation CSI Model 2130 vibration analyzer that combines faster and easier operation with outstanding performance, making it possible to gather information faster than ever before. As collection time is reduced, existing personnel can monitor more plant equipment in the same amount of time, helping to alleviate manpower constraints. The investment in this laborsaving unit can typically be returned within one year.

The new Model 2130 RBMconsultant® PRO data collector/analyzer is "faster and more powerful than other portable devices, including Emerson's own highly regarded CSI Model 2120 data collector," said Robert Skeirik, marketing manager for vibration technologies. "The 2130 PRO has all the features and functionality of the 2120 and more. It features the functionality and ease of use of a large color display, four times larger than the Model 2120, along with greatly expanded memory, enhanced dual channel capability, and a more intuitive user interface. Embedded intelligence guides the user through the data collection process. With extensive help messages, it's like taking the instruction manual with you into the field."

The improved dual channel functionality makes it possible to simultaneously gather any two vibration signals, further cutting data collection time and adding to the 2130's fast acquisition speed.

The high performance 2130 PRO features extremely low-noise circuitry, the patented PeakVue® technology, accurate measurement of variable speed machinery, in-field alarming, and advanced diagnostics. Low-noise circuitry enables the unit to zero in on low-amplitude signals, such as those from an inner race bearing fault - something that can shut down a plant. Furthermore, Emerson's CSI PeakVue® technology filters out normal rotational vibration, allowing the 2130 PRO to identify bearing faults in their earliest stages. Not only is the presence of a fault detected, an indication of the severity of the problem is provided.

Proper diagnosis of machinery problems depends on turning speed, and the 2130 PRO offers the unique capability to automatically compensate for the actual turning speed when performing in-field alarming. When an alarm is triggered, embedded intelligence makes it simple and painless to collect advanced data required to drive through to a conclusive analysis.

"At initial release, the 2130 PRO is a superior vibration data analyzer in virtually every aspect," according to Skeirik. "With its advanced user interface and technology, the 2130 exceeds even the Model 2120 capability, and has the power and flexibility to not only addresses today's production issues, but support Emerson's development of the solution to tomorrow's challenges as well."

For more information on the RBMconsultant 2130 PRO portable vibration data collector/ analyzer, call Emerson's CSI brand connection at 865-675-2110 or visit Emerson's website at mhm.assetweb.com.

Emerson's CSI machinery health management solutions are key elements of the PlantWeb® digital plant automation architecture and Asset Optimization of Emerson Process Management. PlantWeb automates the flow of information on asset reliability and performance to the people who run the business. To help users apply the information, Emerson's Asset Optimization offering combines world-class services with innovative products to significantly improve process plant reliability. The results include improved process availability, increased productivity, and reduced equipment cost-of-ownership.

About Emerson Process Management
Emerson Process Management (www.emersonprocess.com), an Emerson business, is a leader in helping businesses automate their production, processing and distribution components in the chemical, oil and gas, pulp and paper, power, food and beverage, pharmaceutical and other industries. Computational Systems, Inc., an Emerson Process Management company, was founded in 1984 and is based in Knoxville, Tennessee. It is the world's leading designer, producer, and marketer of condition-monitoring products and services. CSI plays a key role in Emerson's mission of combining superior products and technology with industry-specific engineering, consulting, project management, and maintenance services to help customers achieve the potential of their operations. Emerson's brands include: CSI; PlantWeb®, Fisher®; Micro Motion®; Rosemount®; DeltaV(TM); AMS; and MDC.

About Emerson
St. Louis-based Emerson (qotoemerson.com) is a global leader in bringing technology and engineering together to provide innovative solutions to customers in process control; electronics and telecommunications; industrial automation; heating, ventilating and air conditioning; and appliance and tools. Sales in fiscal 2002 were $13.8 billion.


Related