Portable unit provides large-bore thread-milling.
Press Release Summary: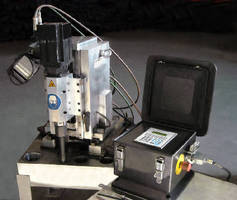 With geniSYS 220 3D milling unit, Hydratight can mill holes up to 8¾ in. in diameter and up to 12 in. deep, as well as complex 3D geometries, including imperial and metric threaded connections, all under CNC control. Portable service cuts most metals, corrosion, and impurities with very small swarf that can be vacuumed away. Applications include turbines, diesel engines, large industrial castings, reactor and pressure vessels, pipework, and valves.
---
Original Press Release:

Hydratight Introduces Ingenious Portable Thread-Milling Service



Hydratight's new large bore thread milling service offers a unique boost to repair speeds and operator profitability - because for the first time, complex 3D milling and thread repair services are both entirely portable and astonishingly accurate.

The machining of large bores and threads on site is a difficult operation, typically carried out using hydraulic or electric boring equipment and manual taps. The accuracy and efficiency of these techniques can be inconsistent, resulting in expensive delays to project schedules and extended downtime of critical plant.

The new Hydratight geniSYS 220 3D milling unit is now available for hire anywhere in the world.

It has already proved itself in jobs in the engine room of a ship in South Africa, on a 350-tonne automotive press destined for China and at a petrochemicals plant in Germany.

"It's a truly amazing piece of equipment," explained the company's service product manager, Chris Leonard. "Services that would previously simply not have been available without massive dismantling and shipping to the nearest engineering workshop can be completed in-situ, because the geniSYS 220 is completely self-contained with its own machine head, control unit and power supply.

"It can mill large-diameter holes - up to 220mm (eight and three quarter inches) and up to 300mm (12in) deep, as well as complex 3D geometries, including imperial and metric threaded connections, all under CNC control, so it is highly accurate and repeatable," Chris explained.

The system was originally designed to overcome the problem of machining large-bore threaded closures for gas and steam turbines, but in tests over the past couple of years of development, the geniSYS 220 has proved itself useful in a far wider range of applications: refurb and thread-cutting on screwed casings, complex milling of 3D internal spaces, remaking threaded connections on huge marine diesels, weld-prep on large vessels, and much more. It is far better, solution for boring-out threaded holes in new and corroded materials than spark erosion.

"The main alternative to geniSYS 220 has been available for decades: electric or hydraulic equipment and, usually, manual taps and dies," said Chris. "The geniSYS 220 brings a level of accuracy and power simply unattainable by manual operation. This was proved on our first marine example, while we were on field trials. "A ship was in dock in Durban for major refurbishment. One of the jobs was an overhaul of its engine, a big MAN B&W five-cylinder marine diesel that had been in service for years.

"Obviously It had been in a harsh environment and some of the studs holding the cylinder head to the block needed replacing. The only way for the refurb contractor to do this was to bore out the old studs with drills, retap the holes manually and insert new studs. "It sounds easy on paper but these were big, M95 studs in old, corroded metal, and five of the company's senior technicians and two labourers had spent 10 days and blunted four taps, after which time they had succeeded in replacing none of the 14 studs required. The contract was in danger of overrunning, which would have been very expensive all round."

Hydratight was asked to help out and, in collaboration with the people on site, the operator made up a special mounting plate, set it up and cut all 14 studs - in just three days.

"It goes without saying that the accuracy was simply unachieveable by manual means - and the project got back on schedule," said Chris. "The ship's owners were so pleased they booked the geniSYS 220 on the spot for the ship's next scheduled overhaul in Antwerp AND for additional work on its sister vessel there in Durban! "Word got round and we've since had enquiries from power generation, oil and gas, transport and metals companies to work on their in-situ problems.

"When you compare the cost of using geniSYS 220 to the hundreds of thousands of dollars such work could take in machine downtime, our service charges become pretty insignificant. "It's no wonder our order book is already filing up, even though the service has only officially been available for a couple of months."

To learn more email chris.leonard@hydratight.com web: www.hydratight.com

BENEFITS:

Combining market leading technology & expert operators, the 3D CNC thread milling service offers a unique professional solution to the many problems faced by industry relating to the tapping of large bore threaded connections & machining of other complex 3D geometries.

o CNC high accuracy machining, on site

o No dismantling/transport cost

o Consistency

o Variable bore

o Hands-free, guarded cutting for maximum safety

o Low stress cut for low temperature, small swarf size

o Guard and vacuum option reduces safe area required

o Speed: uses less power and superior to spark erosion

o Easily cuts most metals, corrosion and impurities

o Very small swarf that can be vacuumed away

o Minimum heat generation

o Unique flat bottom bore

o Small footprint and fast set-up

o Flexible: offers a wide variety of applications

o Metric bore diameters 20-220mm*, Depth 0-300mm

o Imperial bore diameters ¾"- 8¾" *, Depth 0-12"

* 310mm (12.3/16") on request

APPLICATIONS:

The geniSYS 220 offers excellent versatility, with field proven results for numerous applications including;

o Turbines (steam, gas, hydro)

o Diesel engines (power generation, transport (marine and locomotive))

o Large industrial castings (automotive press, centrifuge)

o Reactor and pressure vessels

o Pipework, valves and industrial plant

More from Portable Tools