Portable Ultrasonic Flow Meter uses non-invasive design.
Press Release Summary: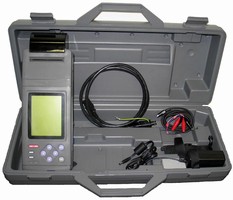 Liquid flow meter, PUX Series, utilizes transit time difference principle for measuring flow rates through pipes from outside with accuracy of ±1.0% of rate. In addition to digital signal processing, features include graphic LCD and serial (RS-232C) communications. Series may be set-up with various sensors of differing sizes and is available with integrated type graphic printer.
---
Original Press Release:

NEW! Series PUX Portable Ultrasonic Flow Meter Converter



The NEW Series PUX Ultrasonic Flowmeter utilizes the transit time difference principle for measuring flow rates through pipes from the outside. This liquid flow meter is compact, portable, and lightweight, incorporating the latest breakthroughs in digital signal processing and electronics. In addition, the Series PUX ultrasonic flow meter realizes high performance and easy operation. One of the most attractive features of these ultrasonic flow meters from the PUX Series is the non-invasive setup, which enables multiple flow measurements of different running systems and offers a significant cost advantage over time. The Series PUX ultrasonic flow meter may be set up with a wide variety of sensors from small diameters to large diameters, over a wide temperature range. This unit is available with an integrated type graphic printer.

Complete details are available on our website @ www.dwyer-inst.com/htdocs/flow/SeriesPUXPrice.cfm

Dwyer Instruments, Inc.
P.O. Box 373
Michigan City, Ind., 46361
Phone: (800) 872-9141 or (219) 879-8000
Fax: (219) 872-9057
Internet address: www.dwyer-inst.com
E-mail: lit@dwyer-inst.com