Portable Transformers of all Voltages and Sizes for Trouble-free Applications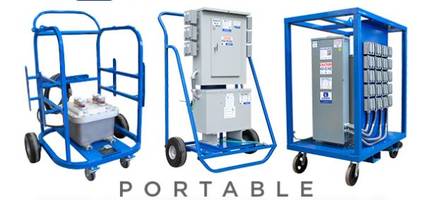 Struggling with the final stage of voltage transformation?
Our line of portable transformers has you covered!
Power distribution can be overwhelming without proper equipment. Whether you need to step down or step up voltage levels to match equipment on the industrial work site, Larson Electronics is capable of handling all of your power requirements.
We can make your life easier by offering a wide range of input voltages (in single and three phase): 600V, 480V, 240V, 220V, 208V and 120V.
On the output side, our portable transformers cater to the following usable voltages: 480V, 240V, 220V, 208V, 120V, 24V and 12V.
When it comes to size, you can choose from 150 watts all the way to 300 KVA! These thresholds allow you to choose a model with at least 20 percent spare capacity for emergency loads.
That's right, our portable transformers are scalable and capable of growing with your business.
When we say portable, we mean portable.
Our space-saving transformers come in various mounting options, including base stands, upright carts, skid mounted and trailer mounted. They're designed for mobile applications, as well as indoor/outdoor spaces (NEMA 3R or 4X rated).
Click on the link below to view our portable transformers. Don't forget that we offer custom-built options for our power distribution products. Let us know what you need and we'll build it!
Explosion Proof Lighting
Power Distribution
Light Towers
String Lights
LED Lights
Explosion Proof Cameras
For more information about our industrial lighting fixtures, please check out the Larson Electronics website (http://www.larsonelectronics.com) or call 800-297-4352.
Larson Electronics
9419 E US HWY 175
Kemp, Texas 75143 US
More from Mounting & Attaching Products