Portable Spectrometer aids in data analysis/acquisition.
Press Release Summary: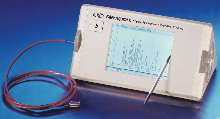 Offered with choice of spectral ranges to cover UV through NIR spectral regions, OSM-400 self-contained spectrometer uses 12-bit A/D converter and features on-board, 32-bit processor; color LCD and GUI; and touch-screen control. It can be used to carry out local data analysis in real-time, and data can be stored, archived, and transported on removable SmartMedia memory cards. Detector array has 2048 elements, enabling unit to offer resolutions to 1 nm.
---
Original Press Release:

Newport Introduces the OSM-400, a High Performance Portable Spectrometer


Irvine, California - March 4, 2004 - Newport Corporation has introduced the OSM-400, a self-contained, portable spectrometer with a choice of spectral ranges to cover the ultraviolet through near-infrared spectral regions. Optical input is via a fiber optic with SMA connector, or directly though the input slit. With an on-board 32-bit processor, color liquid crystal display and graphical user interface for data display and touch-screen control, the OSM-400 can be used to carry out local data analysis in real time. Data can be stored, archived and transported on removable SmartMedia memory cards. Data may also be downloaded via an RS-232 link or optional 10/100 Ethernet port.

The OSM-400 is ideal for laboratory research, and process control and QC applications, as well as for OEM system integrators. Target markets include chemistry and biochemistry, semiconductor research and fabrication, pharma, biomedicine, foodstuffs, astronomy, and education. It can be configured for various types of optical spectroscopy, including fluorescence, atomic emission, near-IR absorption, and Raman.

The OSM-400 is the first product to be introduced from Newport's comprehensive new line of spectrometers. The OSM-400 features high performance data acquisition and on-board analysis in a cost-effective package. Its battery operation provides up to 4 hours of continuous portable use making it ideal for field or production line applications, as well as in shared laboratory environments. The high performance of the OSM-400 offers resolution up to 1 nm, and uses a 12-bit A/D converter for data acquisition with a high dynamic range making it well-suited for demanding research applications. And, with its detector array having 2048 elements, the OSM-400 can simultaneously provide high spectral resolution and wide spectral coverage.

More information on Newport's new line of spectrometer products is available on the company's web site at www.newport.com/spectro

About Newport Corporation

Newport Corporation is a leading global supplier of advanced technology products and systems to the semiconductor, communications, electronics and research markets. The company provides components and integrated subsystems to manufacturers of semiconductor processing equipment, advanced automated assembly and test systems to manufacturers of communications and electronics devices, and a broad array of high-precision components and instruments to commercial, academic and government customers worldwide. Newport's innovative solutions leverage its expertise in precision robotics and automation, sub-micron positioning systems, vibration isolation and optical subsystems to enhance the capabilities and productivity of its customers' manufacturing, engineering and research applications. Newport is part of the Standard & Poor's Midcap 400 Index and the Russell 2000 Index. For more information, visit www.newport.com, or contact the company at 1791 Deere Avenue, Irvine, California, 92606, USA, Tel. (In U.S.) (800) 222-6440; Tel: (949) 863-3144; Fax: (949) 253-1800.

Company Contact:

David Rossi
Director of Marketing
Tel: 949.863.3144
Fax: 949.253.1800
E-mail: drossi@newport.com

Hector Lara
Senior Product Manager
Tel: 949.437.9874
Fax: 949.253.1983
E-mail: hlara@newport.com

More from Machinery & Machining Tools