Portable Server has 17 in. monitor and 6 drive slots.
Press Release Summary: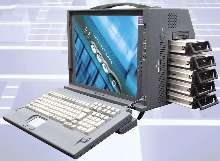 Hercules Series workstation, offered with choice of ATX motherboards, has user-selected processors, memory, and card slots. Packaged in lunch box-style portable chassis, Hercules HTII-767 includes up to 17 in. flat panel TFT LCD screen and 150 GB of storage via five 5.25 in. and one 3.5 in. open bay drives. With universal 7-slot ATX form factor backplane, series offers scalability within portable server. Keyboard and mouse are connected via RJ-45 connector.
---
Original Press Release:
New Rugged Expandable Portable Server/Workstation with 17 Inch Monitor, 6 Drive Slots And Any Size ATX Motherboard
Azusa, CA (April 28, 2004) - Acme Portable Machines, Inc., a leading provider of rugged portable computers, today introduced their Hercules Series, a ruggedized mass storage, fully loaded line of portable servers/workstations with user choice of ATX motherboards, which translates to user-selected processors, memory and card slots with orders. Specifically, in a lunch box style portable chassis, the Hercules HTII-767 houses up to a 17" flat panel TFT LCD screen and 150 GB of storage via five 5.25" and one 3.5" open bay drives loaded from the side for a mobile server that accommodates applications in the fields of forensics, law enforcement, data acquisition, multimedia applications, field auditing and troubleshooting. Because of its universal 7-slot ATX form factor backplane, the Hercules Series is optimal for providing flexibility and expandability initially and at a later date by simply inserting a new ATX motherboard with updated components, such as the processor. This offers users not only the ability to migrate to higher processor speeds, but it also offers scalability within the portable server for adding additional cards and memory to the new motherboard with improved components and additional slots. The new line of Hercules portable computers provides a seamless backup of removable storage for RAID protection and simple backup on the go or mobility within a network where needed (maximum storage capacity is dependent on size of drives ordered). In addition for ease of use, the keyboard uses Ethernet connectivity to connect the keyboard and mouse to the system making it ideally suited for "pack-n-go" users and changing lifestyles. The HTII-767 has one of the largest screens available in a rugged portable server/workstation to accent the mobility and flexibility of the Hercules Series design due to the natural benefits obtained from its sheer size viewed from a distance such as a shelf, table top or workbench. As a combo benefit to the screen and system, the keyboard and mouse are connected via an RJ-45 connector, and a lengthy coiled retractable cord means the keyboard and mouse can be extended from a distance. The combination of both the benefits of the screen and the keyboard provide optimum flexibility management in virtually all rugged and rough environments, where the unit can be placed overhead and the keyboard at operator level. The 17" TFT LCD screen provides a full range of colors and has 50,000 hours of backlight life. Other variations of the Hercules portables come in 14.1" and 15.1" TFT LCD screens and can be tilted for better viewing. All screens are available in resolutions of 1024 x 768, 1280 x 1024, and 1400 x 1050. Price And Availability The Hercules Series of rugged, portable servers/workstations are uniquely designed as an expanding powerful computing solution with enormous storage capacity, processor speeds, and the reliability of a high-end server. Prices vary upon configurations, but the Hercules HTII-767 is priced at $3,600 in quantities of 10 and comes with 150 GB of storage, a 3.0 GHz processor and a 17" super brilliant TFT LCD screen. About ACME Portable Machines, Inc. With worldwide headquarters located outside of Los Angeles in Azusa, California, ACME Portable Machines, Inc. was founded in 1994, to meet the computing needs of extreme environments whether they are in Aerospace, a crime scene location or on an industrial manufacturing plant floor. The company manufactures a broad line of hardy computers and workstations, portable laptop computers also known as lunchbox portables, all-weather keyboards, rackmount displays and keyboards and small and large flat panel displays/kiosks. All products are designed to be integrated with upcoming new technologies offering systems that mean more than just a tool on the road but an investment into the future. ACME portables have been real life tested and proven effective in meeting the most demanding environments and excel in critical applications such as data acquisition, analyzing LAN/WAN and telecommunication signals, industrial and manufacturing, medical field for diagnostics, onboard and flight line aerospace applications and just plain computing. Outside of the United States, the company supports its customers and OEM/ODM partners through direct subsidiaries in Europe and Asia and trained distributors worldwide. For additional information on ACME Portable Machines, Inc. and its products, customers can contact the sales department at 1330 Mountain View Circle, Azusa, CA 91702 · phone 626.610.1888 · fax 626.610.1881 · e-mail at sales@acmeportable.com. The company is on the World Wide Web at www.acmeportable.com.
More from Electrical Equipment & Systems