Portable RFID Reader/Writer has pistol grip design.
Press Release Summary: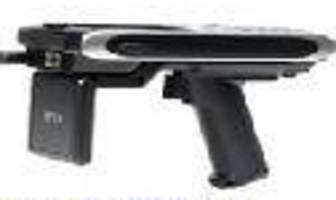 Designed to read RFID tag data in 13.56 MHz access range, high frequency mobile RFID reader/writer GAO223005 transfers real-time data to host computer simultaneously. It is compatible with both ISO15693 and ISO14443A/B protocols. Suited for warehouse distribution, point-of-sales (POS) inventory control, or field services, rugged unit can achieve high reading rate with optional interfaces such as WLAN Tri-mode 802.11 a/b/g and Bluetooth.
---
Original Press Release:

13.56MHz Pistol Grip Portable Reader Writer



Toronto, Canada - GAO RFID Inc. (www.GAORFID.com ) has rolled out a portable RFID reader/writer (GAO223005). This high frequency (HF) pistol grip mobile computerized RFID reader/writer is specifically optimized to read RFID tag data in the 13.56MHz access range, and performs real-time data transfer to a host computer simultaneously. GAO's pistol grip reader/writer is widely used for warehouse distribution, point-of-sales (POS) inventory control, or field services.

GAO's portable high frequency reader/writer is compatible with both ISO15693 and ISO14443A/B protocols, and supports both North America and EU standards. It can be easily connected to other devices to execute operation of reading or writing. This rugged reader/writer achieves a high reading rate with optional interfaces such as WLAN Tri-mode 802.11 a/b/g and Bluetooth.

For more information about GAO's 13.56MHz (HF) portable reader/writer, please visit www.GAORFID.com or contact Sales@GAORFID.com.

About GAO RFID Inc.

GAO RFID Inc. is a leading provider of Radio Frequency Identification (RFID) hardware and solutions to end users worldwide. GAO RFID combines best of breed with low cost RFID readers, RFID tags and enabling-RFID software. GAO offers a wide variety of RFID readers, tags and antennas in all the RFID technologies, Low Frequency (LF), High Frequency (HF), Ultra High Frequency (UHF, Gen 2) as well as Active and Semi-Passive. GAO RFID's products and services are easily customized for use in asset tracking, healthcare, supply chain & logistics, event management, access control, livestock tracking, inventory control & management, field service maintenance and document authentication.

For more information please visit www.GAORFID.com

GAO RFID Inc. is a member of GAO Group, which also includes

GAO Tek Inc. - www.GAOTek.com

GAO Research Inc. - www.GAOResearch.com

GAO RFID Asset Tracking - www.GAORFIDAssetTracking.com

GAO Embedded - www.GAOEmbedded.com

GAO Instruments - www.GAOInstruments.com

GAO Comm - www.GAOComm.com

GAO Fiber Optics - www.GAOFiberOptics.com

Address 1: 601 Milner Avenue, Third Floor

City: Toronto

State: OR

Zip: M1B 2K4

Country: Canada

Phone: 416-292-0038

URL: www.GAORFID.com

More from Software