Portable Oxygen Concentrator accommodates active oxygen users.
Press Release Summary: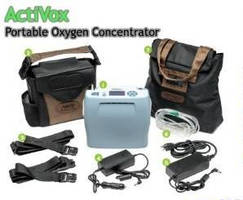 Eliminating need to change and carry multiple oxygen bottles, LifeChoice ActiVox Portable Oxygen Concentrator (POC) comes in 3 and 4 L models with AC/DC power supplies, carrying bag, cannula, battery level indicator, pushbutton oxygen flow release, and low oxygen level alarm LED. PULSE-WAVE Delivery technology controls flow of oxygen so that max oxygen dose reaches lungs, and Auto Mode Technology automatically adjusts breath trigger sensitivity to support breath depth and rates.
---
Original Press Release:

PRO2 Medical Supplies Announces Availability of the ActiVox Portable Oxygen Concentrator (POC) for Active Oxygen Users



LUBBOCK, Texas -- In response to customers wanting an overnight, portable oxygen concentrator that reduces cylinder deliveries and eliminates the trouble of changing and carrying multiple oxygen bottles, PRO2 Medical Supplies is happy to announce the availability of the LifeChoice ActiVox Portable Oxygen Concentrator (POC) complete with AC/DC power supplies, carrying bag and cannula. Designed to accommodate active oxygen users, the LifeChoice ActiVox Portable Oxygen Concentrator (POC) makes it easier to travel without worrying about refilling or changing tanks. Featuring a battery level indicator, push button oxygen flow release and an alarm LED to let users know when oxygen levels are low, the ActiVox Portable Oxygen Concentrators are the lightest, three-liter and four-liter portable oxygen concentrators available on the market.



State-of-the-Art PULSE-WAVE Delivery & Auto Mode Technology

Makers of the LifeChoice ActiVox Portable Oxygen Concentrator (POC), Inova Labs, has patented innovative oxygen conservation technologies called PULSE-WAVE Delivery and Auto Mode Technology. PULSE-WAVE Delivery technology controls the flow of oxygen so that the maximum oxygen dose reaches your lungs. Auto Mode Technology automatically adjusts breath trigger sensitivity to support shallow breath rates during periods of rest and faster breath rates during periods of activity.



Main Features of the ActiVox 4L POC

--  Maintenance-free, quiet operation

--  Operates with an AC cord or hooked into a DC car adaptor

--  1-4 LPMeg PULSE-WAVE settings

--  Long lasting 8.25 hours battery life at 2-Liter per minute

--  Optional external battery adds 3.5 hours battery life

--  Lightweight and reliable; two LifeChoice ActiVox models to choose from

--  Allows oxygen patients to travel just about anywhere in all types of transportation vehicles, from cars and cruise liners to trains and airplanes

--  Approved for overnight use. Model 4L is approved for overnight use as the powerful Auto Mode and PULSE-WAVE Delivery technologies work together to deliver oxygen as you need it, even at night



About PRO2 Medical Supplies

Based in Lubbock, TX, PRO2 Medical Supplies has been offering superior quality medical supplies to regional and national customers for over 15 years. Committed to providing 100 percent customer satisfaction, quick delivery of ordered items (one to three days) and a comprehensive list of medical devices and home medical equipment at affordable prices, PRO2 Medical Supplies has online shopping services for people living outside the Lubbock, TX area.



PRO2 Medical Supplies in Big Spring, TX

PRO2 operates stores in Big Spring, TX and Lubbock, TX. Customers can purchase home medical devices and useful items meant to improve quality of life such as urological equipment, incontinence briefs, knee scooters, walkers, CPAP masks, wheelchairs, male Foley catheters and many other health and medical necessities.



To find out more about the LifeChoice ActiVox Portable Oxygen Concentrator (POC) or to learn how to purchase this product from PRO2 Medical Supplies, visit their contact page or call one of two PRO2 Medical Supplies stores:



In Lubbock TX: 806-791-1188



In Big Spring, TX: 432-264-0353



Visit PRO2 Medical Supplies on Facebook and Twitter



Media Contact:

A Colvin

8067911188

More from Machinery & Machining Tools