Plasma / Flame / Laser Cutters and Cutting Machinery
Portable Oxy-Fuel/Plasma Cutting System has integrated CNC.
Press Release Summary: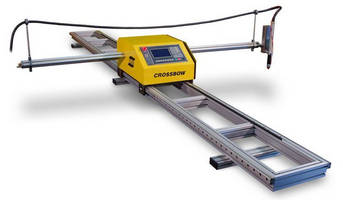 With integrated CNC, Crossbow offers menu-driven interface that facilitates operation and library of 24 common shapes; dimensions can be edited to create custom shapes without actual programming. USB port allows transfer of off-line programmed NC files as well as set up of step-and-repeat pattern or loading of nest of shapes. CNC also features functions to simplify cutting operations: automatic process sequencing, Arc-Voltage Height Control, kerf compensation, and automatic plate-check.
---
Original Press Release:

ESAB Introduces Portable, Economical Oxy-Fuel/Plasma Cutting System



Florence, SC — ESAB Cutting Systems introduces Crossbow, a compact oxy-fuel/plasma CNC cutting system that is portable and economical. The machine's size and weight make it easy to transport as the application requires. Automated functions and a user friendly CNC provide powerful, versatile, oxy-fuel or plasma processing in a value-minded package. Crossbow is ideal for trade schools, small fab shops, maintenance and repair shops, or for portable use within large facilities or at construction sites.



Crossbow features a fully integrated CNC, eliminating the need for the user to add a controller to the system. A simple, menu-driven interface makes operation easy to learn and use. A library of 24 common shapes minimizes programming and setup time. Dimensions are easily edited to create custom shapes without actual programming. For custom programs, the CNC uses basic M- and G-Code programming, and off-line programmed NC files can be transferred to the machine using a standard USB connection. Operators can easily set up a step-and-repeat pattern, or load in a nest of shapes through the USB port.



The fully integrated CNC also features advanced functions to further simplify cutting operations, including automatic process sequencing, Arc-Voltage Height Control, kerf compensation, and automatic plate-check. Feed rates can be adjusted at any time, and programming capabilities include nested loops and automatic return-to-start.



Crossbow features a motorized lifter to support either oxy-fuel or plasma torches. The Arc Voltage Height Control feature ensures the plasma torch will automatically maintain a consistent cutting height. The machine also includes an Ohmic touch initial height sensing, which finds the plate surface and sets the piercing height during automated plasma cutting. This system also detects torch crashes by sensing the plate during cutting, and shuts down the plasma system accordingly. In addition, a cutting oxygen solenoid valve allows automatic cutting when using an oxy-fuel torch.



The machine is ready to be equipped with an optional ESAB PowerCut® 900 (60A), PowerCut® 1300 (70A) or ESP-101 (100A) plasma package. Using plasma, Crossbow can rapidly cut mild steel and aluminum up to 20mm (3/4 inch) thick or stainless steel up to 15mm (5/8 inch) thick. ESAB's simple and reliable air-plasma systems feature non-high-frequency starting and electronically controlled pilot arc circuits for high reliability.



A precision guide rail enables stable motion of the crossbeam and full support of the cutting torch for accurate, reliable performance. Precision linear rails minimize vibration during cutting to ensure accurate cutting over the entire working envelope. A drive disengage toggle switch allows quick and easy manual positioning.



For more than 75 years, ESAB Cutting Systems has been offering off the shelf, turnkey solutions to customers around the world. ESAB Cutting Systems is a total system supplier, offering CNC shape cutting machines in a variety of sizes, using a wide range of cutting technology to include plasma, oxy-fuel, laser, and waterjet tools, programming and nesting software, and CNC controls.



ESAB Welding & Cutting Products is a recognized leader in the welding and cutting industry. From time-honored processes in welding and cutting to revolutionary technologies in mechanized cutting and automation, ESAB's welding consumables, equipment, and accessories bring solutions to customers around the globe. For more information, visit www.esab-cutting.com or call 1-888-372-2288.



FOR MORE INFORMATION, CONTACT:

Carl Bandhauer

+49 151 17433642

c.bandhauer@esab-cutting.de



Sue Bartholomew

843-679-5823

sbartholomew@esab.com



Loretta Degasperi

843-664-4274

ldegasperi@esab.com

More from Services