Portable Oil Mist System features cyclonic technology.
Press Release Summary: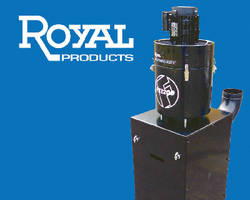 Measuring 18 x 20 in., Filtermist Ultra™ is top-mounted on mobile cart with locking casters and is designed to fit behind chip conveyor on most machines to remove oil mist and smoke. Internal cyclone optimizes particle separation, so clean air can be exhausted back to factory floor. Because system self-drains to machine tool coolant sump, it can operate continuously. Filtermist Ultra is suitable for machines with internal volume greater than 60 ft³ and exceeds OSHA/NIOSH safety regulations.
---
Original Press Release:

Royal Products Introduces Filtermist Ultra(TM) Portable & Compact Oil Mist Solution with Cyclonic Technology



Hauppauge, New York —Royal Products' new Filtermist Ultra™ is a portable solution for oil mist and smoke that combines Filtermist with cyclonic technology to remove additional pollutants. The system is top-mounted on a mobile cart with securely locking casters. Its efficient design delivers a small footprint that eliminates the need for additional stands or brackets.



"Filtermist Ultra fits conveniently behind the chip conveyor on most machines," said Royal Products Vice President of Marketing Tom Sheridan. "It is ideal for retrofitting an existing production line or incorporating into a new one. And Filtermist Ultra works efficiently for nearly every application, including: turning, milling, grinding and cast-iron machining."



The system was designed to simplify maintenance and lower manufacturing costs. The internal cyclone particulate removal improves particle separation, so clean air can be exhausted back to the factory floor. That helps lower the expense of heating and cooling the facility. Filtermist Ultra can operate continuously, because it self-drains back to the machine tool coolant sump. This process also reduces coolant costs by recycling it, rather than venting it to the atmosphere.



Filtermist Ultra exceeds current and proposed OSHA and NIOSH safety regulations, making it a good investment for the future. Removing oil mist reduces the risk of accidents caused by slippery residue. Inhaling oil mist is potentially dangerous to the lungs and larynx. The pollution may be harmful to skin as well. Oil mist deposits also create a fire hazard.



By preventing oily residues, Filtermist Ultra reduces the time and cost of cleaning exposed surfaces. It also eliminates build-up that can interfere with equipment.



Filtermist Ultra is driven by Royal Products FX-1200, enabling it to handle a wide range of machine tool types and sizes. It's ideal for machines with an internal volume greater than 60 cu. ft. The unit measures 18-inches by 20-inches and includes 20-feet of six-inch diameter ducting.



An all-inclusive system, it can be ordered with one SKU. That includes the model FX-1200 Filtermist unit, mobile cart, integral cyclone, oil return hose, ducting, six-inch diameter flange adapter, and two six-inch diameter ducting clamps. Other available products include a starter box kit with an optional low- or high-voltage motor starter, NEMA 12 box, input and output cables, and a turn-lock connector. An optional after-filter is available for collecting dry smoke and very fine mist particles.



The Royal Filtermist system is sold through authorized distributors, available by calling: 800-645-4174.



About Royal Products

Royal Products, www.royalprod.com, has grown to be a leading manufacturer of precision metalworking accessories since the company's founding in 1946. An ISO-registered company, Royal is recognized throughout the metalworking industry for both the quality and innovation reflected in the hundreds of unique accessories that comprise its line of products. All have been developed with the goals optimizing machine-tool performance and maximizing spindle usage.