Portable Hydrometer suits process control applications.
Press Release Summary: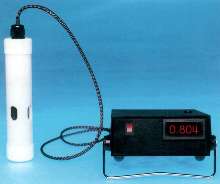 Digital electronic hydrometer performs real-time, continuous monitoring and logging of liquid density at inaccessible/remote locations and provides analog signal for process controllers. Extension leads provide connection from head unit to electronics module, which provides panel meter readout of liquid density in specific gravity units (sgu). Measuring density from .5-2.0 sgu with ±.0005 accuracy, unit operates on spring-mass principle with Hall sensor detector.
---
Original Press Release:

Process Control Digital Electronic Hydrometer


Unlike ordinary bulb hydrometers, which are passive-static devices, this new portable electronic hydrometer features the following attributes:

1) It can do real-time continuous monitoring and logging of the liquid density (specific gravity) and it provides an analog signal for process controllers.
2) Monitor and record the density of a liquid at inaccessible remote locations.

The transducer head unit is 8 inches long and 1.7 inches in diameter. Extension leads provide connection from the head unit to an electronics module. The electronics module provides a panel meter readout of the liquid density in specific gravity units (sgu) and provides an analog output voltage for RS232 serial port connection to a computer. Operates on spring-mass principle with patented Hall sensor detector.

o Measures density in sgu (gms/cm^3) in range from .5 to 2.0 with accuracy ±.0005.
o Can be battery operated for field operation at waste sites, tank farms, out on a lake or deep into the ocean.
o Can be operated in situ in a process control operation to monitor and record liquid density during a typical blending or mixing process for the chemical, petroleum, electroplating, or food and beverage industries.
o Can be used to determine the concentration mix (by volume or mass) of a blend.
o Can be used as a gauge in storage tanks to determine the interface depth between two immiscible liquids such as alcohol and water.
o Can be used in a laboratory to monitor and record liquid density during a process controlled temperature or pressure cycle operation.
o Density range of unit can be designed for custom operation.
o Operating temperature range from -40°F to 200°F.
o Easy to disassemble for cleaning.
o Basic electronics module provides panel meter readout of the liquid density in desired measurement units (sgu, Baume, Brix, etc.).
o Total weight is 5 pounds

If you would like more information please call: 1-800-762-2478

More from Electronic Components & Devices