Portable Gas Detector features automatic optics calibration.
Press Release Summary: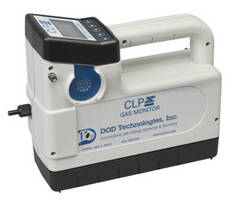 With advanced electronics and analysis software, CLPX ChemLogic Portable Extreme detects and collects data for toxic and corrosive gases down to PPB and PPT levels in seconds. Colorimetric gas detector provides built-in data logging via SD card, which can be removed and all data can be downloaded to Microsoft® Excel. Providing 12 hours of continuous monitoring with user-selectable alarm levels, instrument comes standard with over 15 selectable calibration gas curves.
---
Original Press Release:
DOD Technologies Leads the Way Again in Innovative Gas Detection Solutions!
DOD Technologies releases their new ChemLogic Portable extreme (CLPX). The CLPX is the most advanced colorimetric portable gas detector on the market today. DOD Technologies keeps their tradition of Innovation alive, with this advanced portable colorimetric gas detector. The CLPX is designed around reliable, field prove, proprietary ChemLogic technology. It portably detects and collects data for toxic and corrosive gases down to PPB and PPT levels. The CLPX provides powerful portable gas detection to meet the requirements for a variety of applications (Semiconductors - ERT, Polyurethane Foam - Health Surveys, Specialty Chemical - emergency response, Waste Water Treatment - odor control, etc...). The CLPX was designed with the most advanced electronics and analysis software to meet the ever changing needs of the health and safety professionals.

The CLPX comes standard with over 15 selectable calibration gas curves for maximum flexibility for the user. This eliminates the need to purchase multiple instruments or multiple keys to detect a variety of gases. Changing the CLPX from one gas to another is as simple as a change of the ChemLogic cassette. The advanced electronics and analysis software allows the CLPX to provide low level gas detection in seconds. The instrument provides built in data logging via a SD card. The SD card can simply be removed and all data can be downloaded to Microsoft® Excel. The improved optics design and automatic optics calibration eliminates the need for optical calibration making the CLPX most reliable, fool proof portable gas detector on the market.

For portable gas detection look no further the CLPX has it all. All DOD gas calibration curves, low level gas detection in seconds, reliable and field proven ChemLogic technology, built in data logging via SD card, improved optics design, automated calibration, user selectable alarm levels, up to 12 hours of continuous monitoring, etc.... For more details on the CLPX visit www.dodtec.com/clpx. Further information also available by phone: 815-788-5200 or email: solutions@dodtec.com.

CLPX Gas Calibrations Available
Contact This Company Download Spec Sheet
More from Sensors, Monitors & Transducers