Portable Gas Detector can detect from 1-4 gases.
Press Release Summary: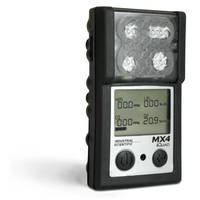 Offered to subscribers of iNet Gas Detection as a Service, MX4 iQuad(TM) features combination of 3 alarms: ultra-bright LEDs, 95 db audible alarm, and vibrating alarm to warn users of hazardous gas levels. Rubber overmold covers it's polycarbonate housing to protect dust-tight unit from high-impact bumps and drops. Decector is also resistant to both water jets and submersion.
---
Original Press Release:

Industrial Scientific Introduces the MX4 iQuad Portable Gas Detector



PITTSBURGH, PA, USA - 29 May 2009 - Industrial Scientific, the global leader in Gas Detection as a Service, introduces the MX4 iQuad(TM). Able to detect from one to four gases, the MX4 is the latest addition to the company's line of iNet-ready gas detectors.

iNet offers an alternative to buying and maintaining gas detectors. It is a software-based service that increases safety by providing visibility into gas detector alarms, exposure and usage. It keeps gas detectors working without costly and time-consuming maintenance. And with iNet, customers do not have to buy the gas detectors. Instead, they subscribe to iNet and receive Gas Detection as a Service.

Using the MX4 with iNet is a better way to do gas detection. Subscribers avoid the common problems of owning gas detectors. At the same time, users are protected by the MX4's reliable and user-friendly features.

The MX4 is small, rugged and simple to use. A rubber overmold covers its polycarbonate housing to protect the MX4 from high-impact bumps and drops. The housing has also been third-party tested and certified IP66 and IP67. This ingress protection rating indicates that the MX4 is dust-tight and resistant to both water jets and submersion. The MX4 uses a combination of three alarms. Ultra-bright LEDs, a 95 db audible alarm and a powerful vibrating alarm all warn users of hazardous gas levels.

About Industrial Scientific Corporation

Industrial Scientific Corporation is the world's leading provider of Gas Detection as a Service. With over 850 people working in 16 countries, Industrial Scientific is dedicated to eliminating death in the workplace by the end of this century. Achieving this goal requires dedication to delivering highest quality and best customer service in all transactions. Industrial Scientific also focuses on providing analysis of data from equipment use and maintenance to identify problems before they happen. Industrial Scientific has operations based in Pittsburgh (USA), Arras (France), Dortmund (Germany) and Shanghai (China). The company provides technical services to customers from local service centers around the world, and has additional offices in Australia, Brazil, Canada, Czech Republic, Dubai, India, Mexico, The Netherlands, Qatar, Singapore, United Arab Emirates and the United Kingdom. For more information, visit www.indsci.com.

Contact:

Chris Lange,

Manager of Marketing, Americas

E-mail: clange@indsci.com,

Phone: 1-800-338-3287 or (412) 788-4353

More from Electrical Equipment & Systems