Portable Flaw Detector is sealed to IP 66 standards.
Press Release Summary: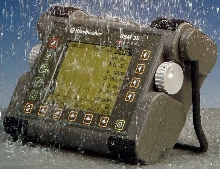 Protected against ingress of dust and strong jets of water, ultrasonic USM 35X is used for inspection tasks from flaw detection to corrosion measurement. Unit provides rotary knobs for setting gain and function values, and operator can select required dB step width, freeze displayed A-scan, or switch A-scan to full screen size by means of direct access keys. Software allows operation to meet Japanese weld inspection standard Z3060-2002.
---
Original Press Release:
USM 35X Portable Flaw Detector Is Now Sealed-For-Use to IP 66

Huerth, Germany, April 2005 - The latest version of the USM 35 portable ultrasonic flaw detector, from GE Inspection Technologies, is now totally protected against the ingress of dust and strong jets of water to IP 66 and contains new software which allows its operation to Japanese weld inspection standards. In addition, the mechanical design modifications necessary to achieve the IP 66 rating have ensured that this versatile flaw detector is now even more robust and suitable for application in the most aggressive of operating environments.

The new USM 35X offers all the functionality associated with the USM 35 but its new environmental protection rating means that it is now not merely splash-proof but can be used in applications ranging from the dusty deserts often encountered in pipeline laying, to the heavy seas met in oil and gas exploration and offshore structural inspection. It is also suitable for operation in ambient temperatures from 0°C to 60°C.

By incorporating a software module to meet the Japanese Industrial Standard Z3060-2002 weld inspection code and by having operating instructions available in Japanese as well as most European languages, applications for the new flaw detector can now be extended not only to Japan but also to worldwide projects which are subject to Japanese code compliancy.

Software improvements in signal processing, as well as circuit board and shielding redesign, account for a much better signal-to-noise ratio with the USM 35X, while new printer drivers now allow reports to be printed directly on-site, without the need to download to a computer.

The USM 35X offers extreme ease of use in inspection tasks ranging from simple flaw detection to corrosion measurement. Its two "spin & set" rotary knobs allow rapid setting of gain and function values and the operator can select the required dB step width, freeze the displayed A-scan or switch the A-scan to full screen size by means of direct access keys.

The color scheme of the high visibility color screen can be changed to suit prevailing light conditions or according to personal preference. The color display facility also enhances clarity when using angle beam probes in weld inspections, as the color of the signal changes with every reflection of the sound beam from the workpiece surface.

As with the USM 35, the new, extremely portable USM 35X is powered by Lithium Ion batteries which allow at least 14 hours of continuous use and can be recharged while still in the instrument.

About GE Inspection Technologies

GE Inspection Technologies is a global leader in technology-driven inspection solutions that deliver customer productivity, quality and safety. The company designs, manufactures and services radiographic, ultrasonic and eddy current NDT equipment to test materials without deforming or damaging them. Its products are used in a wide range of industries, including Aerospace, Power Generation, Oil & Gas and Automotive. The company has 11 application centers around the globe and offers a range of services including repair, calibration, training and upgrades. GE Inspection Technologies has 1,000 employees at more than 25 facilities in 25 countries worldwide. To learn more about GE Inspection Technologies visit www.GEInspectionTechnologies.com.

Sales Enquiries

Email: geinspectiontechnologies@ae.ge.com

Web: www.GEInspectionTechnologies.com
More from Electrical Equipment & Systems