Portable Drive features integrated USB 3.0 cable.
Press Release Summary: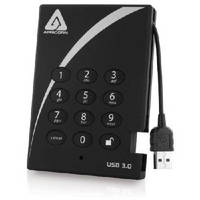 Available in capacities up to 1 TB, Aegis Padlock 3.0 comes with ruggedized, shock-mounted hard drive or solid state drive. Onboard alphanumeric keypad enables secure PIN access and prevents hardware/software malware attempts to capture password entered via host system. All data on drive is protected in real-time using choice of AES-XTS 128-bit or 256-bit hardware encryption. With Auto-lock feature, unattended drive can be configured to lock after pre-determined amount of time.
---
Original Press Release:

NEW from APRICORN: Aegis Padlock USB 3.0 Portable Drive Secures Your Data Anywhere



Compact Design, Integrated USB 3.0 Cable, AES-XTS Hardware Encryption and Secure PIN Access Offers Performance and Powerful Data Security

POWAY, Calif., -- Apricorn (www.apricorn.com), a leading designer and manufacturer of data security products for business, has announced a new and improved version of its popular Aegis Padlock drive, the Aegis Padlock 3.0. The reinvented Aegis Padlock 3.0 combines a super fast integrated USB 3.0 cable - increasing data transfer speeds by over 500% over the USB 2.0 version, enhanced AES-XTS hardware encryption, software free design, plus new security features to create a powerful data storage device perfect for taking your data on the road.

Available in capacities up to 1TB with either a ruggedized, shock mounted hard drive (prices start at $169) or with a super tough SSD (prices start at $199), the Aegis Padlock 3.0 provides powerful data security that is tough enough for a wide variety of needs.

"With the addition of USB 3.0 to our Aegis Padlock drives, we are now able to benefit from improved hard drive and SSD performance. We have also added other enhancements including allowing the drive to be used as a boot device," said Mike McCandless, VP of Sales and Marketing. "This convergence of super fast performance and powerful data security is something that we couldn't wait to provide to our customers."

Protection from Unauthorized Access that is both easy to deploy and simple to use

-- Onboard Alphanumeric Keypad for Secure Access - Simply unlock the Aegis Padlock with your own unique 6-16 digit PIN. The embedded keypad prevents hardware or software malware attempts to capture your password entered via the host system.

-- Military Grade AES-XTS Hardware Encryption - All data on the drive is protected in real-time using your choice of AES-XTS 128-bit or 256-bit hardware encryption. Encryption keys and PINs are never exposed to the host system and are protected using SHA-256 hashing cryptographic algorithm.

-- Software Free Design - With no Admin rights to contend with and no software or drivers to install, the Aegis Padlock 3.0 can work with any USB enabled OS, including Windows, Mac and Linux.

New Security Features make the Aegis Padlock 3.0 Ideal for Corporate Environments

"Our customers asked and we listened," said Mike McCandless, VP of Sales and Marketing. "Our new security enhancements, including an easy to set auto-lock feature and convenient drive reset makes our Aegis Padlock even easier to deploy and manage in corporate settings. Combine this with our software free design and ability to work on any OS, and you have a secure and scalable data storage solution."

-- Auto-lock - The unattended Aegis Padlock 3.0 can be configured to lock after a pre-determined amount of time of your choosing. Ideal for protecting your data when you're away from your computer.

-- Independent Admin and User PINs - Simple to deploy and manage in corporate environments, the Aegis Padlock 3.0 can be configured with independent Admin and User PINs. If the user forgets their PIN, the drive can be unlocked using the Admin PIN.

-- Convenient Drive Reset Feature - The Aegis Padlock 3.0 also employs a useful drive reset feature, which can be implemented with a unique command. This clears all PINs and data, and creates a new randomly generated encryption key, enabling the drive to be reset and redeployed as many times as needed.

-- Brute Force Defense Mechanism - Protecting against automated attempts to crack the drive's PIN, the Aegis Padlock 3.0 uses a three pronged approach to protect itself from hackers; after denying access to incorrect PINs 5 times, the Padlock requires the drive to be disconnected and reconnected to the USB port. Once the maximum number of failed attempts has been reached the Aegis Padlock 3.0 deletes the encryption key rendering all stored data useless and requiring a complete reset in order to redeploy the drive.

For corporate and government customers, Apricorn also provides a free corporate evaluation plan, enabling IT security professionals to fully assess the Aegis Padlock 3.0 as it pertains to their company's security strategy.

Availability

Apricorn's Aegis Padlock 3.0 is available from online retailers and Apricorn's website at www.apricorn.com/padlock3

Pricing


Hard Drive Model

128-bit AES model    256-bit AES model

-----------------    -----------------

250 GB: $169         250 GB: $179

500 GB: $189         500 GB: $199

1 TB: $239           1 TB: $249
SSD Model

256-bit AES model

-----------------

64 GB: $199

128 GB: $379

256 GB: $759


Warranty

1 year limited

System Requirements

Compatible with any standard USB port (for full USB 3.0 speeds the Padlock 3.0 must be used with a USB 3.0 port). Fully compatible with Microsoft Windows, Apple Mac computers and Linux.

About Apricorn

Apricorn has provided secure storage solutions for some of the most prominent names in the industries of finance, healthcare and government. Apricorn's products have become the standard for many data security strategies. Apricorn was founded in 1983 and has developed numerous award winning products under the Apricorn brand and has been an OEM supplier to a number of leading computer manufacturers. Apricorn is headquartered in Poway, California, and distributes products throughout North America and Canada. For additional information please visit www.apricorn.com.

Company Contact:

Apricorn

Michelle Fischer

(858) 513-4480

mfischer@apricorn.com

One gigabyte (GB) = one billion bytes; accessible capacity will be less and actual capacity depends on the operating environment and formatting.

All trademarks are the property of their respective owners.

Web Site: www.apricorn.com

More from Machinery & Machining Tools