Portable Drill bores through tough alloys.
Press Release Summary: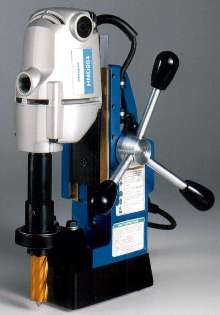 Model HMD904 has drilling capacity of up to 1½ in. diameter and 2 in. depth of cut. Magnetic base provides 820 lbs. drill point breakaway force rating. It incorporates Hougen motor with electrical rating of 115 V, 60 Hz and 8.0 A to maintain cutting speeds and feeds. Design includes rear-mounted controls; side-to-side, reversible feed-handle configuration; motion sensor; and 2-stage, power-on switch. Drill uses Rotabroach® 12,000-Series Annular Cutters.
---
Original Press Release:

New & Improved, Really...A Better Portable Magnetic Drill Debuts


Hougen Manufacturing, maker of the most popular portable magnetic drill in the U.S.- replaces it with the introduction of the company's latest breakthrough in power and performance for holemaking, the new Model HMD904 Portable Magnetic Drill. Incorporating many design and construction upgrades and improvements over its predecessor, the new drill weighs less, has a greater power rating to drill large holes deep without stalling, and features easier to access service and maintenance construction, with the cost of wear replacement parts lowered by 1/3 of those found on the older motor style. Plus, the holding strength of the magnetic base has been increased by nearly 10%, providing more secure drill point breakaway rating. One feature the new drill is keeping, however, is the reliability of its predecessor, having the lowest warranty claims of any Hougen portable magnetic drill.

The new HMD904 weights just 27.5 lbs., measures 16-7/16"H x 7-3/16"W x 8-1/4" long yet provides an expanded drilling capacity of up to 1-1/2" diameter and 2" depth of cut. The strengthened magnetic base provides 820 lbs. drill point breakaway force rating. The upgraded drill design also incorporates a new U.S. made Hougen motor with an electrical rating of 115V, 60Hz and 8.0A, a higher power rating that helps better maintain cutting speeds and feeds for deep holes, large diameter holes and for holes in tough alloys.

The HMD904 also maintains Hougen's efficient design characteristics including rear mounted, accessible controls and a side-to-side reversible feed handle configuration enhance the unit's ergonomics and ease of use. The unit also incorporates Hougen's exclusive safety features to insure a safe work environment. These include a motion sensor which shuts down the drill motor if shift or lift of the magnetic base is detected. A two stage power on switch prevents the drill rotation unless the magnet has first been engaged, and, in the case of a power interruption, safety circuitry will keep the drill motor off after power is restored until the start button is manually depressed.

The HMD904 uses Hougen's Rotabroach® "12,000-Series" Annular Cutters that can improve drilling times by more than two to three times that of conventional holemakers such as twist drills. Because the annular cutters are hollow, there is no center point or "dead zone" that slows the cutting SFM of twist drills, therefore reducing potential feed rates. With the Rotabroach tools, however, tool SFM is virtually constant so speeds and feeds can be set for optimum drilling rates.

The HMD904 can also be transformed into a complete, portable machine shop with accessories available from Hougen. These include pipe adapters for drilling on concave surfaces such as pipe and tubing, tapping kits, countersink tools and adapters, ratchet drive for drilling in extremely tight spaces, arbor extenders for longer reach, Jacobs® chucks, and a quick change twist drill adapter.

Hougen also produces 10 other models of portable magnetic drills with capacities to 3-1/16" diameter and 3" depth of cut. Additional products offered include a complete line of individual and kit-packaged annular cutters for portable drilling and stationary machine tools, cutters specifically designed for sheet metal and plate work, plus Punch-Pro(TM) Electro-hydraulic, single-body and easy-to-use hole punchers with associated tooling.