Portable Computer includes internal space for customizing.
Press Release Summary: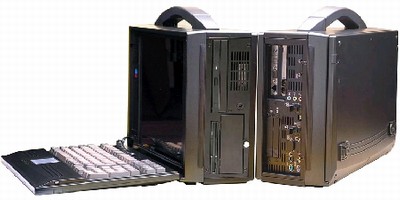 Featuring Intel T2500 2 GHz Core Duo processor backed by 512 MB of memory, Model FLP-200 provides 2 full-length internal slots for 32-bit PCI cards and one mini-PCI connector. Dual Li-Ion batteries provide total of 100 W of output power and are hot-swappable for continuous battery operation. Additional features include 100 GB HD, DVD-RW drive, Firewire, 4 USB 2.0 ports, 1000 Base Tx Ethernet connections, and space for additional pair of RAID drives.
---
Original Press Release:

ACME Introduces Small Rugged Portable Computer



With Internal Space for Application Customizing

No expansion chassis required

AZUSA, Calif. (Jan. 3, 2007) - ACME Portable Machines, Inc. today announced a rugged portable computer about the size of a fat attache case which still has plenty of internal space for application-specific customizing. The FLP-200 is a powerful machine featuring an Intel T2500 2GHz Core Duo processor backed by a minimum of 512MB of memory (expandable to 2GB), ideal for applications such as testing, data logging and video recording for seismic, flight line, in-flight, and factory floor environments where the power and flexibility of a desktop is required. Its ruggedness makes it also ideal for fire, police, emergency medical response, construction, trucking, and off-road applications.

A downloadable 300dpi high-resolution image of ACME's FLP-200 is available at www.seeyouinprint.com/acme/flp-200.jpg or call Mac at 321.348.3253

The FLP-200 makes the benefits of a desktop computer available in the field. Providing two full-length internal slots for 32-bit PCI cards and one mini-PCI connector, ACME's open-systems portable allows a user to customize their system for a specific application (like a desktop) without adding an expansion chassis or going to a bulky case - and to run that system in the field for extended periods on battery power without interruption. Dual Lithium ion batteries provide a total of 100 watts of output power and 190 watt-hours of capacity - roughly three times the capacity of a conventional notebook - and are hot-swappable for continuous battery operation. The FLP-200 can also use 120v/220v power when available, and recharge its batteries while operating off wall power.

A 100GB hard drive is included and space is provided for an additional pair of hot-swappable RAID drives that size. The base system also includes a DVD-RW drive; Firewire, four USB 2.0 ports, and Ethernet connections up to 1000 base Tx for communications; a full-size keyboard; and a 15-inch anti-glare LCD screen. The total package size is 12 3/4 x 16 1/2 x 6 1/2 inches (325 x 420 x 165mm); weight is 20lb (9kg) with the standard dual batteries.

Price And Availability
The FLP-200 with 512MB of memory, a single 100GB disk, and a dual-battery pack is priced at $3,999. Deliveries are less than 30 days after receipt of order.

About ACME Portable Machines, Inc.
With worldwide headquarters located outside of Los Angeles in Azusa, California, ACME Portable Machines, Inc. was founded in 1994 to meet the computing needs of extreme environments whether they are in aerospace, at a crime scene or on an industrial plant floor. The company manufactures a broad line of rugged computers and workstations, laptop and lunchbox portables, all-weather keyboards, rackmount displays and keyboards, and small and large flat panel displays/kiosks. All products are designed to incorporate new technologies as they become available, offering systems that are more than just a tool on today's road but an investment in the future.

ACME portables have been real-life tested and proven effective in the most demanding environments, excelling in critical data acquisition, telecommunications, industrial, manufacturing, medical, and onboard and flight-line aerospace applications, as well as just plain computing.

Outside the United States, the company supports its customers and OEM/ODM partners through direct subsidiaries in Europe and Asia, and trained distributors worldwide. For additional information on ACME Portable Machines, Inc. and its products, customers can contact the sales department at 1330 Mountain View Circle, Azusa, CA 91702, phone 626.610.1888, fax 626.610.1881, sales@acmeportable.com or through its website at www.acmeportable.com

More from Agricultural & Farming Products