Vision and Imaging Sensors / Detectors
Portable Compact Sensor facilitates spectral imaging research.
Press Release Summary: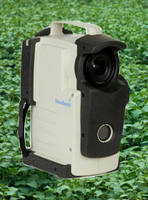 Designed for commercial use by environmental researchers, civil engineers, and remote sensing organizations, Hyperspec® Snapshot covers VNIR spectral range (380–1,000 nm). Imaging sensor uses diffractive optics technology, comprising aberration-corrected features, for optimal spectral/spatial resolution and SNR characteristics. Featuring SFF, fully integrated design, hyperspectral imager provides point-and-click functionality; scene data is shown on LCD screen and recorded on SD-card.
---
Original Press Release:

Hyperspec SNAPSHOT; Headwall's Small, Compact Hyperspectral Sensor is Ideal for Field Use Where Portable Sensors Facilitate Spectral Imaging Research



On display at GEOINT in Tampa, FL. Headwall booth 2097.



Fitchburg, Massachusetts USA — Headwall Photonics announced the introduction of the Hyperspec SNAPSHOT imaging sensor which has been designed for commercial use by environmental researchers, civil engineers, and remote sensing organizations.



The Hyperspec® Snapshot sensor covers the VNIR spectral range (380-1000nm) and uses diffractive optics technology comprising aberration-corrected features for high spectral and spatial resolution and outstanding signal-to-noise (SNR) characteristics.  This commercial product is based on Headwall's Hyperspec RECON sensor which is sold to U.S. military and defense customers.



The Hyperspec® Snapshot sensor is the industry's first portable hyperspectral imager generating very high resolution spectral and spatial datacubes of objects within the sensor's wide field of view (FOV). This high performance, integrated sensor is a small form factor, fully integrated instrument designed for easy, straightforward use in the field. By engineering the optical complexities out of the instrument, the sensor provides point & click functionality where scene data is shown on the sensor's LCD screen and recorded on a standard SD-card.



Headwall CEO David Bannon commented on the innovation provided by the Hyperspec® Snapshot imager: "Headwall designed this commercial sensor based on the work that went into the Hyperspec RECON military sensor, which was built for reconnaissance applications." Hyperspec Snapshot and RECON are fundamentally similar, allowing for the detection of specific spectral targets at long distances within a durable, portable, and easy to use instrument.  "The true innovation is the small size of the sensor coupled with its ease of use," noted Bannon. "We engineered the complexity out so the sensor becomes a very useful instrument for a wide range of applications and users that extend beyond military reconnaissance missions."



Hyperspec® SNAPSHOT can be ordered directly from Headwall or any worldwide distributor partners.



This product will be on display at the Geoint exhibition in Tampa, Florida April 14-17. Headwall's display booth is 2097.



About Headwall

Headwall, based in Fitchburg, Massachusetts (USA), is a leading designer and manufacturer of hyperspectral instruments for industrial, commercial, remote sensing, precision agriculture, and government markets. Other application areas include medical and biotechnology, forensics, chemicals, and color measurement, and in-line process inspection. Headwall enjoys a market leadership position through the design and manufacture of spectral instrumentation that is customized for application-specific performance, for end users and OEMs.



For information contact:

Mr. Chris Van Veen

Headwall Photonics, Inc.

Tel: +1 978-353-4051

Email:  cvanveen@headwallphotonics.com

Web site: http://www.headwallphotonics.com



With the click of a button, Headwall's Hyperspec Snapshot renders a hyperspectral scene in only a few seconds and at a distance of over a kilometer.



Headwall airborne solution

Remote sensing aboard airborne platforms is a perfect deployment of hyperspectral imaging. Headwall's Micro-Hyperspec (above) is small and light to fit hand-launched multi-rotor and fixed-wing UAVs. These precision-packed sensors feature aberration-corrected optics for exceptional imaging performance, high signal-to-noise, and a wide field of view.



Headwall is now offering completely integrated airborne hyperspectral solutions that include a customized UAV, GPS/IMU, LiDAR if needed, and Hyperspec III application software that manages all data collection and processing tasks...including ortho-rectification!



Copyright © 20XX. All Rights Reserved.

More from Electronic Components & Devices