Portable CMM supports high-speed, wireless operation.
Press Release Summary: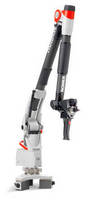 Suited for tactile and non-contact 3D measurement, ROMER Absolute Arm with integrated laser scanner is capable of acquisition speeds to 50,000 points/sec – even on difficult-to-scan surfaces such as high-gloss carbon-fiber. Optional Wireless Scanning Pack enables completely wireless operation at same data transmission speed as traditional cable. Wireless Scanning Pack includes dual hot-swappable battery system, where one battery can be charged continuously while other is in use.
---
Original Press Release:

ROMER Absolute Arm Now up to 66% Faster



Hexagon Metrology Offers Faster Scanning Capabilities, Wireless Option



NORTH KINGSTOWN, RI – The enhanced ROMER Absolute Arm with integrated laser scanner is more rapid than previous versions, offering an acquisition speed of up to 50,000 points per second. This enables users to move the scanner over the measurement object faster than before, while achieving the same high-quality data which ROMER users have come to expect, even on difficult-to-scan surfaces such as high-gloss carbon-fiber. This means that users can now scan up to 66% more surface area in the same amount of time as with previous versions of the ROMER Absolute Arm with integrated laser scanner.



Along with this development, Hexagon Metrology is launching a wireless scanning option for the ROMER Absolute Arm with integrated laser scanner. This new Wireless Scanning Pack allows any arm with an integrated scanner to be operated completely wirelessly, and at the same data transmission speed as with a traditional cable. Furthermore, for unlimited wireless operation in the field, the Wireless Scanning Pack includes a dual "hot swappable" battery system, where one battery can be charged continuously while the other is in use.  Offered as an accessory, the Wireless Scanning Pack is compatible with all new and existing ROMER Absolute Arms with integrated laser scanner. Upgrade Installation for existing ROMER arms can be user completed in just a few minutes.



These new laser scanning capabilities are available immediately. Hexagon Metrology will debut them at the IMTS exhibition in Chicago from September 10th-15th, 2012 (Booth E-5202).



The ROMER Absolute Arm with integrated laser scanner is a portable CMM for both tactile and non-contact 3D measurement. The laser scanner is completely integrated into the arm, which allows the measuring arm to be certified as complete system according to international standards such as B89 or VDI/VDE.



About Hexagon Metrology

Hexagon Metrology offers a comprehensive range of products and services for all industrial metrology applications in sectors such as automotive, aerospace, energy and medical. We support our customers with actionable measurement information along the complete life cycle of a product – from development and design to production, assembly and final inspection.



With more than 20 production facilities and 70 Precision Centers for service and demonstrations, and a network of over 100 distribution partners on five continents, we empower our customers to fully control their manufacturing processes, enhancing the quality of products and increasing efficiency in manufacturing plants around the world. For more information, visit www.hexagonmetrology.us.



Hexagon Metrology is part of Hexagon (Nordic exchange: HEXA B). Hexagon is a leading global provider of design, measurement and visualization technologies that enable customers to design, measure and position objects, and process and present data.



Link to Press release: http://hexagonmetrology.us/news-and-events/press-releases/457-romer-absolute-arm-now-up-to-66-percent-faster



For media inquiries only, please contact:

Hexagon Press Contact: Belinda Jones, HiTech Marketing LLC

(860) 399-1147, belinda.jones@hitechmarketing.com



Hexagon Marketing Contact: Bill Fetter, Hexagon Metrology, Inc.

(847) 214-5234, william.fetter@hexagonmetrology.com

Related