Portable Circular Chart Recorders come in Pelican case.
Press Release Summary: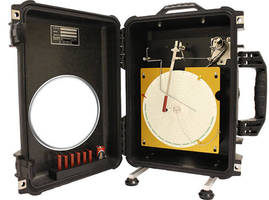 Available with any combination of up to 3 pressure (10 in. of water up to 30,000 psi) or temperature (0 to +1,100°F) systems, Portable Pressure and Temperature Recorders come in Pelican™ cases with plexiglass window or solid door and pressure equalization valve. Watertight, crushproof, dustproof enclosure also features heavy-duty deflector ribs and stainless steel padlock protectors. Feet are adjustable for placement on uneven surfaces and rubberized to prevent slippage.
---
Original Press Release:

New Portable Pelican Case Recorder Now Available | Palmer Wahl Instrumentation Group



Asheville, NC – Palmer Instruments, Inc. announces the introduction of new Portable Pressure and Temperature Recorders housed in High Performance PelicanTM Brand Cases.  Designed for use in the harshest of outdoor environments, the PelicanTM case housing provides a watertight, crushproof, dust proof enclosure with Heavy Duty Deflector Ribs for extra protection from shocks and impacts.  Stainless Steel padlock protectors provide extra strength and security when locking for tamper resistance.  Use either of the two, comfortable rubber over-molded handles to move the recorder between job sites.  Feet are adjustable for placement on uneven surfaces and rubberized to prevent slippage.  Case includes pressure equalization valve to release built up air pressure, while keeping out water.



PelicanTM Case recorders are available with a plexiglass window or solid door; solid door models are IP67 rated, so your charts stay dry regardless of the weather.  Store spare pens and batteries in the convenient holder mounted inside the door.  Door stop feature keeps the door from closing while changing a chart or pen.



Choose your PelicanTM case recorder with any combination of up to three pressure or temperature systems. Pressures between 10 inches of water up to 30,000 PSI are available, with scales available in inches of Water, inches of Mercury, kilopascals, ounces per square inch, and pounds per square inch. Temperature ranges between 0 and 1,100°F (0 to 600°C) are also available.  All internal components are stainless steel or anodized aluminum to prevent corrosion and insure longevity.  All PelicanTM Case Models come with a three year warranty.  NIST Traceable calibration is available.



Circular Chart recorders from Palmer Instruments have been proudly crafted in the USA for more than 60 years.  Heavy aluminum case models are also available.  Palmer Pelican Case Pressure and Temperature recorders are available through Palmer Instruments, Inc. and its network of domestic and international distributors.



For additional information please contact us at sales@palmerwahl.com or call 1-800-421-2853, fax 828-658-0728. Write to Palmer Wahl, 234 Old Weaverville Road, Asheville, NC 28804.



About Palmer Wahl

Palmer Instruments, started as America's first thermometer company in Cincinnati, OH in 1836.  Since that time, Palmer has steadily evolved through product development geared exclusively towards industrial process measurement, test and calibration. Wahl Instruments, founded in Culver City, CA in 1953, manufactured precision temperature instruments for industry, and developed the first portable digital platinum-RTD contact thermometer system. Since then, Wahl has introduced many technical innovations in precision portable temperature instruments.



Together Palmer Wahl, with 179 years of continuous product innovation, offers the finest selection of Industrial Instrumentation products in the world, and is uniquely qualified to provide application/technical support, installation, calibration services and product selection from an extensive line of the finest instrumentation products. For more information, visit www.palmerwahl.com.