Portable Analyzers Great for Small Lab Spaces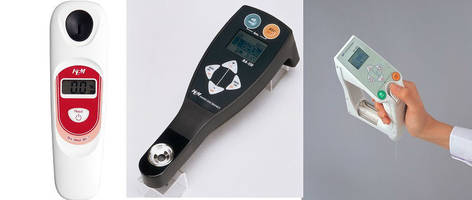 JM Science offers a line of portable analyzers, great for the small and budget friendly laboratory space. We offer the BX-1 Portable Brix Meter, the RA-130 Portable Refractometer, and the DA-130N Density/Specific Gravity Meter. All meters are competitively priced.
The Portable Brix Meter BX-1 comes equipped with a wide measuring range that makes it possible to measure all kinds of foods. The device is able to be used with one hand, so it is friendly to both right and left handed users alike. The Portable Brix Meter can be used outdoors, and is unaffected except for when it is in direct light. The energy saving batteries can run more than 30,000 measurements. It has a shelf life of one year measuring 100 measurements/day.
The Portable Refractometer RA-130 features a compact size, light weight and high precision measurement. It can store up to 1100 measurement results. Through supplied software and an infrared port, the data can be easily transferred to any computer. It can display measurement results in Refractive Index (RI), Temperature compensated RI, Brix %, and the like. It also has three different sucrose conversion tables: Brix and isomerized sugar HFCS42 and HFCS55.
The DA-130N is a portable density/specific gravity meter that is lightweight and easy to operate. It is ergonomically-designed with a backlit display for easy reading. The DA-130N can be easily adjusted with one hand, and is friendly to both right-handed and left-handed users. It is capable of measuring samples of up to 2,000mPas of viscosity.
For more information as well as pricing, visit www.jmscience.com/analyzers/portable-analyzers
Please send all inquiries to:
Mr. John MacFarlane
2408 Bedell Rd.
Grand Island, NY 14072-0250
Send email sales leads to: john@jmscience.com
More from Agricultural & Farming Products