Portable Access Control Computer has modular functionality.
Press Release Summary: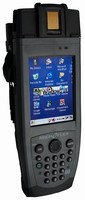 Conforming to military standards for shock, vibration, and extreme temperatures, IP67-sealed DAP CE3000B weighs 1 lb and integrates various methods for physical access control. It provides Personal Identification Verification (PIV) for perimeter access control at checkpoints utilizing biometric Fast Fingerprint reader, 1D/2D scanner or laser scanner, or contact/contactless smart card reader. Upgradeable design offers interchangeable features to meet authentication demands.
---
Original Press Release:

DAP Technologies Announces CE3000B Handheld for Security & Access Control



Tempe, AZ- DAP Technologies today announced the availability of the DAP CE3000B Security.

The DAP CE3000B is a lightweight, rugged handheld computer that integrates the latest methods for physical access control in a portable form factor that operates in harsh field environments. Weighing only one pound, the computer provides fast, reliable Personal Identification Verification (PIV) for perimeter access control at checkpoints utilizing a "fast fingerprint" reader, scanner or smart card reader.

With a field replaceable battery, the CE3000B can operate for more than full day on a single charge and can perform personal identity verification in temporary disaster management areas or on a permanent basis in field applications-both in a disconnected mode or wirelessly. Employee IDs, E-Passports and other access cards can be easily swiped or scanned on site. Other features include a highly ergonomic 22-key keypad and an environmentally-sealed speaker, with record and playback features.

"Roper Mobile Technology Companies have a long history of developing rugged, flexible and modular computing solutions that make sensors and data available in harsh environments. This is especially critical for emergency management professionals and government, military and industrial organizations that face unpredictable scenarios which require responsiveness on a moment's notice," said Eugene Yazbak, President of Roper Mobile Technology.

"The DAP CE3000B is our latest security product and part of our long-standing commitment to providing reliable and rugged tools for security personnel," he continued. "Today, our vehicle mount computers are deployed at checkpoints and port terminals and we continue to develop our other rugged platforms with customizable features specifically for customers who need to secure locations through authentication."

A Windows CE 5.0 solution with an Intel XScale Bulverde processor, the DAP CE3000B is the only fully rugged handheld solution available today with a modular, upgradeable design. This unique "End Cap" Technology offers advanced and interchangeable features for authentication that can adapt with specific applications and can lower the cost of technology investment and long-term service. End Caps easily attach to the handheld. Options include:

o Biometric "Fast Fingerprint" reader
o 1D/2D Scanner or Laser Scanner
o Smart Card Reader: contact & contactless

Adhering to the strictest military standards of MIL-SPEC 810F for shock, vibration and extreme temperatures, the DAP CE3000B can withstand the most challenging outdoor environments. The base unit is IP-67 sealed, which indicates that it can be submerged and operate in one meter of water for 30 minutes. The ruggedness of the solution can lead to lower failure rates and less downtime in critical applications.

ABOUT DAP TECHNOLOGIES
DAP Technologies, LTD recently joined JLT Mobile Computers, Inc. to form Roper Mobile Technology in order to offer its customers a truly complementary line of rugged, highly customizable solutions and expertise for computing in challenging environments.

DAP Technologies is the leading manufacturer of rugged mobile computing solutions and services for harsh environments. DAP designs and manufactures computers for a range of demanding industries including Utilities, Field Service, Emergency Services, Public Safety, Energy, Transportation and Logistics. DAP's computers help increase the productivity of data collection, processing and transmission for a wide variety of applications.

DAP Technologies employs a talented team worldwide, benefits from an extensive network of partners and resellers (VARs), and markets its rugged computers in more than 60 countries. DAP has offices in Paris ( France ), Abingdon ( United Kingdom ) and Tokyo ( Japan ). For more information visit www.daptech.com.

ABOUT ROPER MOBILE TECHNOLOGY
Roper Mobile Technology is the leading provider of fully rugged, highly customizable computer solutions for challenging environments. Designed from the ground up, the Company's full line of rugged mobile computing solutions include lightweight handhelds, Tablets, Ultra Mobile PCs and fixed mount computers.

Roper Mobile is a newly formed company that draws from over 35 years of combined experience through the joining of DAP Technologies, LTD and JLT Mobile Computers, Inc.

Roper Mobile's highly customizable and versatile products bring efficiency and reliability to mobile data communications for customers in a breadth of industries including public safety, military, warehousing, mining, construction and transport. Roper Mobile's hardware solutions are available through certified partners and resellers worldwide. Roper Mobile has corporate offices in the U.S., Canada and the U.K. , and sales offices worldwide.

Roper Mobile Technology and DAP Technologies are subsidiaries of Roper Industries (NYSE: ROP), a global and diversified provider of highly engineered industrial products and solutions for global niche markets. For more information visit www.ropermobile.com.

More from Laboratory and Research Supplies and Equipment