Portable 2-Way Radios come in 4- or 16-channel models.
Press Release Summary: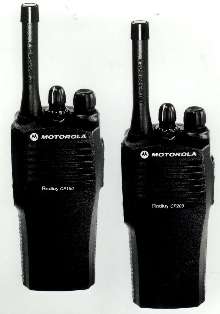 With 500 mW audio output that penetrates noisy environments, Radius CP150(TM) and CP200 offer significant differences in transmit power: 2 W (UHF/VHF) CP150 is suited for jobsite communications, while 4 W (UHF)/5 W (VHF) CP200 allows users to communicate from across streets or across town. Also, CP200 users can selectively program and page customized talk groups or individuals using proprietary Quik-Call II(TM) Selective Call/Call Alert. Both radios stand 5 in. high and weigh 15 oz.
---
Original Press Release:
Motorola Introduces New Padius CP150 and CP200 Portable Radios:Commercial Series Maximizes Talk Time In Compact, Lightweight Package
Schaumburg, Ill. May 21, 2003 - Motorola, Inc. (NYSE:MOT) has announced the introduction of two new portable two-way radios-the Radius CP150(TM) and CP200(TM). These most recent entries in the Motorola portfolio were specifically designed using customer feedback to identify the "Seven Essential Elements of Solid Two-Way Communication" - value, reliability, ease of use, audio quality, size and weight, battery life and range. Linked by a common design philosophy, the CP150 and CP200 offer users significant differences in transmit power for greater operational flexibility. The 2W (UHF or VHF) CP150 is ideal for jobsite communications while the 4W (UHF)/5W (VHF) CP200 will allow businesses to coordinate activities from across the street or across town depending upon terrain and other conditions without costly airtime fees. In addition, CP200 users can selectively program and page customized talk groups or individuals using Motorola's Quik-Call II(TM) Selective Call/Call Alert. The CP200 also transmits each handset's unique digital ID information using MDC Push-to-Talk Radio ID. Perfect for pocket or purse, both radios stand only 5" high (less antenna) and weigh 15 ounces when equipped with the standard High Capacity 1100 mAh Nickel Cadmium battery. The 2-Watt CP150 features an average battery charge life of 9 hours (8 hours for the CP200) using the NiCd battery. For up to two full shifts of communications power, an 1800 mAh Lithium Ion battery is available. Using the Li-ion battery, the CP200 sports a charge life of 14 hours. The CP150 can be powered up to 17 hours! Radios with Li-ion batteries weigh just 13 ounces. Ruggedly dependable, the CP150 and CP200 radios also offer: o 4 or 16 channel (UHF or VHF) models o Large control and push-to-talk buttons perfect for jobsites demanding gloves o Powerful 500mW audio output that penetrates noisy environments o Programmable buttons enabling users to customize their radio's feature set o Two-year Limited Warranty About Motorola Motorola, Inc. (NYSE:MOT) is a global leader in providing integrated communications and embedded electronic solutions. Sales in 2002 were $27.3 billion. Motorola is a global corporate citizen dedicated to ethical business practices and pioneering important technologies that make things smarter and life better for people, honored traditions that began when the company was founded 75 years ago this year. For more information, please visit: www.motorola.com. Motorola Commercial, Government and Industrial Solutions Sector (CGISS) Motorola's Commercial, Government and Industrial Solutions Sector (CGISS) is a leading provider of integrated radio communications and information solutions, with more than 65 years of experience in meeting the mission-critical requirements of public safety, government and enterprise customers worldwide. The sector offers an extensive portfolio of solutions to meet growing public safety and security needs, including: interoperable two-way radio communications solutions, command and control solutions, identification and tracking solutions, information management for criminal justice and civil needs, and physical security and monitoring solutions. In 2002, CGISS received the Malcolm Baldrige National Quality Award, the nation's premier award for performance excellence and quality achievement. For more information, please visit: www.motorola.com/cqiss For more information on the CP150 and CP200 radios and to find your nearest Motorola Authorized Two-Way Radio Dealer, please visit www.motorola.com/cgiss/portables.shtml. Please forward all sales leads to: Ms Marcy Taylor Motorola Radio Products & Services Division 1313 E. Algonquin Rd. Schaumburg, IL 60196 Marcy.Taylor@motorola.com
More from Machinery & Machining Tools