Porex to Debut Suite of Porous Polymer Sensor Components Improving Response Time and Enabling Greater Sensitivity for Gas Sensors at SENSOR+TEST 2019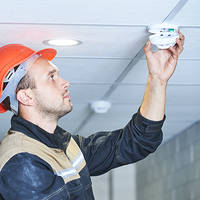 Innovative sensor line streamlines efficiency and cost for sensor manufacturers during production
Fairburn, GA—USA (June 25, 2019) – Porex, a global leader in porous solutions, has designed a new line of sensor components that are critical for improving safety and performance for electrochemical gas sensor applications. These POREX® solutions will be unveiled at SENSOR+TEST 2019 at the Nürnberg Exhibition Centre in Hall 5, Booth #5-134, June 25-27 in Nϋrnberg, Germany.
The new sensor technology is engineered to enhance sensor performance and manufacturing safety through fast gas diffusion, high capacity gas absorption and safe-to-use materials. POREX components are customizable in shape and size to meet specific sensor application or device needs. The array of components can be seamlessly integrated throughout the manufacturing process, streamlining efficiency and reducing overall costs.
Porex's solutions can be tailored to meet the necessary demands of a variety of sensor applications including gas absorption to diminish inaccurate readings, effective ingress protection to safeguard the sensor, and fast diffusion for improved response times. In addition, POREX materials can accommodate needs specific to electrolyte holding and wicking to safely facilitate electrolyte chemical reactions and catalyst support for consistent operations with minimal shrinkage.
This suite of porous solutions for electrochemical gas sensors include:
POREX® Virtek™ PTFE dust covers protect the device from dust and water while ensuring that critical levels of gases are both accumulated and detected sooner with fast gas diffusing rates as the material absorbs less gas than alternative fiber and ePTFE vents.
POREX® gas-specific absorption filters, constructed with safe additives instead of the toxic lead acetate components used in competitive products, minimize false readings and premature degradation by increasing absorptive capacity of the gas per unit volume. Ultimately, the filters can help to extend the lifespan of sensors.
POREX® carbon absorption filters reduce false measurements as a result of their ability to absorb low molecular weight alcohols such ethanol and improve sensor target gas detection. Additionally, the filters simplify the manufacturing process with their bonded carbon material, which is low shedding, unlike the industry standard high shedding carbon cloth. Moreover, greater absorptive capacity over traditional products can enable sensors to last longer.
POREX® reservoirs retain and deliver an electrochemical system's electrolyte
to facilitate the chemical reaction. Engineered for optimal capacity and directional flow, the reservoirs are designed with safe-to-use high release media (HRM) or polypropylene (PP) or polyethylene (PE) materials, eliminating the need for glass wool, which can be dangerous when inhaled or cause irritation to the skin.
POREX Virtek™ PTFE membrane materials, used in sensor dust covers, diffusion layers and catalyst carriers, help to improve sensor response time. They are durable because of their strong sintered structure, allowing for easy printing, plating or bonding of secondary layers, and can be thermally or vibrationally welded in an automated process, reducing both cost and time during production.
"Sensors play a major role in our daily lives, providing critical functionality in a variety of life-saving applications," said Vadim Hunte, Porex's global strategic marketing director for electronics and automotive. "There is little room for error in sensor performance. We are thrilled to debut our carefully engineered components that help ensure sensors not only perform optimally but feature longer lifespan, greater reliability and improved efficiency."
To learn more about Porex's new suite of gas sensor components, please visit www.porex.com
 About Porex Corporation
For nearly 60 years, Porex Corporation has been partnering with our customers to deliver engineering and design innovations that turn their product ideas into reality. Through a collaborative engineering partnership, Porex develops high-value porous polymer solutions to their product design challenges in absorption, application, diffusion, filtration, venting, and wicking. By applying our extensive porous polymer material science, product design, and custom plastic manufacturing expertise to developing porous solutions, we help our customers overcome their complex product development challenges. As a result, over 1,500 customers in 65 countries trust Porex for their porous polymer technologies that can be used in a wide variety of applications in healthcare, consumer, electronics, and industrial industries to improve the performance of their end products and create a safer, healthier and more productive world. Let our experience, quality, and innovation support your continued success by reaching out to us at www.porex.com.
About Filtration Group
Porex is a business of Filtration Group. Filtration Group is making the world safer, healthier and more productive by creating innovative solutions that deliver outstanding customer value. Filtration Group serves a highly diverse set of customers with offerings that span life sciences, process technologies, and fluid and indoor air quality applications. One of the fastest growing companies in the industry, Filtration Group serves its customers from over 100 facilities in 28 countries. For more information, visit www.filtrationgroup.com.