Pop-Up Steady helps support long, slender tools.
Press Release Summary: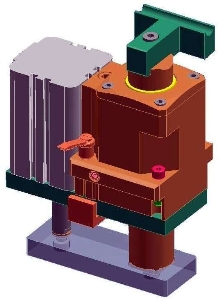 Height adjustment block, located in-between actuation cylinder and steady shaft, increases clearance when performing end face grinding on TX7+ machine. Featuring total movement of ±2.5 mm, adjustment screw offers 0.25 mm per revolution of support height adjustment. Steady can be manipulated to eradicate any misalignment in X-Y Plan using CAM-type mechanism adjusted via Allen Key, and overall length enables use of 2 steadys on 1 steady bed.
---
Original Press Release:

TX7+ Popup Steady


Melbourne - A new generation of popup steady for the TX7+ machine is now available. The steady builds on the current model with enhancements to increase its flexibility.

Product enhancements

This generation of the pop-up steady is phase 1 of a long term development plan to increase the versatility of this accessory. Phase 1 consists of the following enhancements:

· Height adjustment block which is currently located at the front of the steady has been removed and relocated in-between the actuation cylinder and steady shaft. This increases clearance when doing end face grinding operations.

· Height adjustment mechanism has a finer adjustment screw. The new version of the popup steady has an adjustment screw offering 0.25mm per revolution of support height adjustment. The current version is 0.5mm per revolution. Total movement of the support is + / - 2.5mm.

· Additional adjustment has been added so as the steady can be manipulated to eradicate any misalignment in the X-Y Plan. This is done using a CAM type mechanism which is adjusted using a standard Allen Key.

The new design steady with its reduced overall length has enabled the possibility for using 2 steadys on 1 steady bed. This layout in conjunction with the 'T' style steady shoes is ideal for supporting long slender tools. The steadys are connected in series and are dual operated as if it were a single unit.

The second phase will be the design of another model steady that will have additional adjustment mechanisms for every degree of freedom required to achieve perfect steady shoe alignment with the tool. Delivery date for phase 2 is not currently available. The phase 2 steady will not supersede the Semi Adjustable Popup Steady (phase 1). The phase 2 model will be an additional product sold at a premium price for customers wanting greater adjustment and accuracy of the steady support.

About ANCA

ANCA was founded in 1974 to design and manufacture high technology Computer Numerical Controls (CNCs) for the machine tool and metal-based industries. Today, ANCA has become a leading designer and manufacturer of complete, precision CNC tool and cutter grinding machines in a global niche market. With its core values of precision, innovation, quality and technological excellence, ANCA is today an international organisation of more than 300 employees with a robust set of technological and entrepreneurial skills. Offices are located in major cities in Europe, North America and Asia; with dealerships represented in over 25 countries. ANCA continues to research market demands and produce products and services to benefit its customers.

For more information, contact:

Greg Perry
Product Specialist - Mechanical
Email: gregp@anca.com.au
Tel: +613 9751 8248

More from Electrical Equipment & Systems