Polyurethane Dye Additive adds temp. color to clear coats.
Press Release Summary: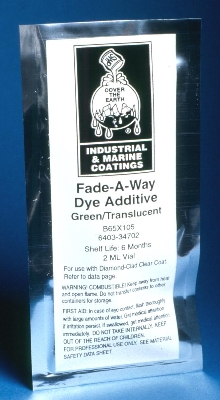 Fade-A-Way Dye Additive, a translucent colorant, provides temporary color contrast between topcoat and base coat. It aids in uniform application of clear coat, and dissipates after approximately 72 hours, leaving only clear topcoat. Additive is suitable for use with Diamond-Clad Clear Coat applications in petrochemical, water, wastewater, and industrial applications.
---
Original Press Release:
New Fade-A-Way Polyurethane Dye Additive From Sherwin-Williams Adds Temporary Color To Clear Coat

New from Sherwin-Williams is Fade-A-Way Dye Additive, a translucent colorant for Shrewin-Williams Diamond-Clad Clear Coat. The polyurethane dye additive takes the guesswork out of applying the clear topcoat by providing temporary color contrast between the topcoat and base coat, aiding in uniform application of the clear coat. After approximately 72 hours, the colorant dissipates leaving a beautiful, clear topcoat.

Fade-A-Way Dye Additive is ideal for use where Diamond-Clad Clear Coat is being applied in petrochemical, bridge and highway, water and wastewater, marine and general industrial applications.

Sherwin-Williams Industrial and Marine Coatings group serves North America with a broad line of high-performance coatings, comprehensive technical service, and the industry's largest distribution network. Relying on more than 130 years of experience in formulating industrial coatings, the group provides cost-effective solutions for applications where extreme corrosion, abrasion and chemical attack are present.