Polypropylene Piping System withstands harsh conditions.
Press Release Summary: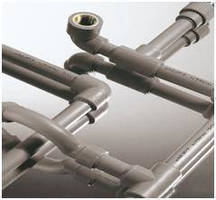 Made from beta crystalline PPR Polypropylene in multi-layering manufacturing process with fiberglass center, NIRON PP-RCT Pipe and Fitting System can be installed in place of copper and steel in commercial, institutional, and industrial environments. High purity options are available for non-toxic applications, such as food and beer production. Tested lifespan is 100–150 years, and installers are offered 4 fusion methods that do not require traditional arc welding.
---
Original Press Release:
F.W. Webb Introduces NIRON, a Revolutionary Piping System, to the U.S. Market
Bedford, Mass. – The F.W. Webb Company is announcing an innovative polypropylene pipe and fitting system for commercial, institutional and industrial needs. Making its debut domestically after more than 30 years in wide use outside of North America, the NIRON PP-RCT Pipe and Fitting System is the most advanced piping system of its kind.

Lightweight yet extremely durable, NIRON can be installed in place of copper and steel at a faster installation pace, with less material waste and less overall cost. The product meets the highest industry standards and offers high purity options for non-toxic applications, such as food and beer production.

Ranging from simple fluid transport to highly engineered infrastructure systems, applications include:
• Hydronic heating
• HVAC
• Water (potable, chilled, recycle, glycol, brine)
• Liquid chemicals
• Compressed air
• Geothermal

F.W. Webb is the exclusive distributor of NIRON pipe, fittings and supplies in the Northeast, and is serving as the master stocking and distribution point for NIRON  products sold throughout the U.S.A.

"When F.W. Webb decided to seek the latest in polypropylene piping for our customers, we conducted a thorough investigation and quickly realized the NIRON product is superior," said Ernie Coutermarsh, senior vice president of Industrial Development at F.W. Webb. "Professionals in mechanical contracting, engineering, facilities management, food and beverage production, manufacturing, hospitals, hotels, power and energy, liquid waste management, and similar areas will find NIRON a cost-effective, easy-to-install, and reliable piping system."

NIRON PP-RCT Pipe and Fitting System
NIRON pipe is made from advanced beta crystalline PPR Polypropylene (PP-RCT) in a multi-layering manufacturing process. NIRON pipe enhanced with a fiberglass center is as stable as traditional metallic pipe, with the same limited thermal expansion. Its insulating qualities offer greater energy efficiency (keeping substances close to desired temperatures) and noise mitigation for better acoustics.

In many applications, the NIRON piping system is also a superior choice over other plastic and thermoplastic piping, according to Christopher Ziu, the NIRON products manager for Houston-based Nupi Americas, Inc., a wholly-owned subsidiary of Nupigeco, S.p.A., the inventor and manufacturer of NIRON.

"NIRON pipe is exceptionally strong and can withstand harsh conditions, including freezing temperatures, extreme heat, high pressure, chemicals, and above and below ground exposure," Ziu said. "It has a tested lifespan of 100 to 150 years, the longest of any polypropylene pipe on the market today."

The NIRON system is the only pipe and fittings system of its kind to offer installers the flexibility of four simple fusion methods, requiring no traditional arc welding.

Availability and Training
NIRON pipe, fittings and supplies are in inventory and available for sale in the Northeast through F.W. Webb. The company is also providing installation training and support. All inquiries can be directed to the Thermoplastic Piping Division at 781-325-7041 or jdt@fwwebb.com.

About F.W. Webb
With roots going back to 1866, the F.W. Webb Company proudly offers outstanding products, services and expertise to residential, commercial, industrial and institutional customers. As the largest wholesale distributor of its kind in the Northeast, F.W. Webb has extensive inventory and expertise in plumbing; heating; HVAC, including made-to-order ductwork; refrigeration; and industrial PVF (pipe valves fittings). The company also offers building and process controls; propane gas equipment; water systems; commercial and industrial pumps; fire protection and fabrication; thermoplastic piping; and high purity process components.

F.W. Webb has more than 80 locations in nine states. The company supports customers with a network of sales professionals and product specialists with deep expertise in the industries served. For more information, visit fwwebb.com and see our 14 areas of expertise in action at fwwebb.com/14areas.

About Nupi Americas
Nupi Americas has been established in the U.S.A. since 2001 with headquarters and production facility in Houston, TX. The company is the North American operating subsidiary of Nupigeco, S.p.A., with headquarters in Milan, Italy. Nupigeco was established in 1972 and has been manufacturing and marketing the NIRON Product line since 1982. NIRON has been distributed and installed in over 70 countries worldwide in many high profile installations, ranging from government and military applications to shipbuilding, and in a variety of well-known hotels, medical/hospital facilities and other everyday applications.

In addition to the Nupi Americas Houston operations, the company is planning to open a new manufacturing and distribution headquarters for its NIRON product in coastal South Carolina in 2016. For more information, visit nupiamericas.com.

Media Contact:
Phyllis Laorenza
781-272-6600 x.328
plao@fwwebb.com
More from Agricultural & Farming Products