Polyphaser's 4.3-10 Connected SX Series Of Lightning RF Surge Arrestors are optimized for 4G LTE wireless systems and 5G networks.
Press Release Summary: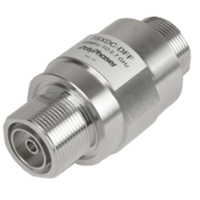 Polyphaser's 4.3-10 connected SX Series Of lightning RF surge arrestors feature market leading PIM performance. They contain Polyphaser's patented filter technology, which outperforms quarter-wave stub and gas technologies. The surge arrestors are bi-directional for easy installation while compact in size, taking up about 40 percent less space than other RF arrestors. The product line is available in 4 configurations with broad frequency ranges from 698 MHz to 2.7GHz.
---
Original Press Release:
PolyPhaser Expands RF Surge Protection Line for Global 4G LTE and Future 5G Networks
Addressing the growing demand for RF lightning surge protection for global 4G LTE and 5G network applications, PolyPhaser today expanded its versatile 4.3-10 connected SX™ Series of lightning RF surge arrestors, with market leading PIM performance.
"We optimized the design to meet the rigorous requirements of high end 4G LTE wireless systems and requirements for future 5G networks." said Robert Cid, Global Product Manager for PolyPhaser's RF lightning surge arrestors. This new series of 4.3-10 connected arrestors are compact in size for use in small cell networks, DAS systems and macro sites.
Four new configurations are available, including two that allow the pass-through of AISG signals. The complete product line is available today from PolyPhaser and its global network of channel partners.
4.3-10 connected PolyPhaser SX™ RF Lightning Surge Arrestor features:
    Broad frequency range from 698Mhz to 2.7GHz
    4.3-10 coaxial connectors
    Low PIM rating — typical PIM of -130dBm (-173dBc, 2x20W)
    Bi-directional for ease of installation
    Compact size compared to bulky quarter wave stub RF arrestors
    Repeatable RF performance after surge events
    10 year manufacturers warranty
The new 4.3-10 connected RF lightning surge arrestors feature PolyPhaser's patented SX™ filter technology that continues to outperform quarter-wave stub and gas tube technologies. Occupying approximately 40 percent less space than traditional components, the new SX protectors provide consistent performance. For additional information or to request further product specification contact PolyPhaser at +1 208 772 8515 or visit us at www,polyphaser.com.
About PolyPhaser
Part of the Infinite Electronics family of brands, PolyPhaser leads the market with patented RF protection solutions for communications systems. Through innovative RF engineering and manufacturing capabilities, PolyPhaser provides protection technology that virtually assures uninterrupted communications flow of data and information through global networks. For more information, visit http://www.polyphaser.com.
About Infinite Electronics
Based in Irvine, Calif., Infinite Electronics offers a broad range of RF components, assemblies and wired/wireless connectivity solutions, serving the aerospace, defense, industrial, government, consumer electronics, rail, instrumentation, medical and telecommunications markets.
Operating under the Pasternack, Fairview Microwave, L-com, MilesTek, KP Performance Antenna, Aiconics, Kaelus, PolyPhaser, Transtector Systems and RadioWaves brands, Infinite Electronics serves a global engineering customer base with deep technical expertise and one of the broadest inventories of products available for immediate shipment. For more information, visit http://www.infiniteelectronics.com.
Related