Polymer Tantalum Capacitors suit critical military systems.
Press Release Summary: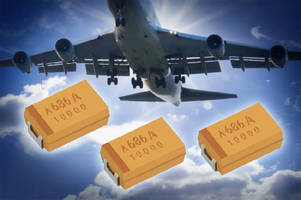 Offered in COTS+ version, TCB Professional Series features conductive polymer electrodes, which enable extremely low ESR and minimize potential for ignition failure. Devices come in 10 V and 16 V ratings with capacitances of 47 and 68 µF, single DCL of 0.1 CV, and capacitance tolerance of ±20%. Operating from -55 to +105°C, RoHS-compliant capacitors are suited for AC/DC power supplies, DC/DC converters, filtering, decoupling, and timing circuits.
---
Original Press Release:

AVX Releases COTS+ Polymer Tantalum Capacitor Series for Critical Military Systems



The new TCB Series capacitors provide extremely low ESR & high reliability backed by lot conformance, life, & humidity testing



FOUNTAIN INN, S.C. – AVX Corporation, a leading manufacturer of passive components and interconnect solutions, has released a new COTS+ version of its TCR Professional Series polymer tantalum chip capacitors. Designed for use in critical military systems, the new TCB Series COTS+ polymer tantalum capacitors feature conductive polymer electrodes, which enable extremely low ESR and reduce the potential for ignition failure. Additionally, each batch undergoes lot conformance testing and additional reliability level verification in order to provide higher reliability than standard polymer tantalum capacitors. Life tested to 0.1% per 1,000 hours with a 90% confidence level, designed to withstand biased humidity testing at 85°C and 80% of rated humidity for 120 hours, and rated for operating temperatures as high as 105°C, TCB Series capacitors are ideal for: AC/DC power supplies, DC/DC converters, filtering, decoupling, timing circuits, and pulsing circuits.



"Our new TCB Series COTS+ polymer tantalum capacitors provide critical systems design engineers with even lower ESR than typical solid tantalum capacitors, in addition to the high reliability that such applications demand," said Brian Brunette, high reliability tantalum applications engineer, AVX. 



Currently available in a single case size (AVX Code: D, EIA Code: 2917, EIA Metric: 7343-31), two voltage ratings (10V and 16V), two capacitances (47µF and 68µF), and a single DCL (0.1CV), TCB Series capacitors feature a ±20% capacitance tolerance, are available with two termination finishes (Sn/Pb and 100% tin), and are rated for operating temperatures spanning -55°C to +105°C. TCB Series capacitors rated for 20–63V and 0.47–100µF are currently in development and, upon release, will introduce three new case sizes and a 0.05CV DCL option available on certain codes.



The series is RoHS compliant and lead-free compatible, and lead time for the series is 12 weeks.



For more information about AVX's new TCB Series COTS+ polymer tantalum capacitors, please visit http://www.avx.com/docs/masterpubs/High%20Reliability%2014.3.pdf to access AVX's High Reliability Tantalum Capacitor Catalog, in which you can find the product datasheet (pages 80–84) and information about moisture sensitivity levels. For all other inquiries, please visit www.avx.com, call 864-967-2150, or write to One AVX Boulevard, Fountain Inn, S.C. 29644.



About AVX

AVX Corporation is a leading international supplier of electronic passive components and interconnect solutions with 20 manufacturing and warehouse facilities in 11 countries around the world. AVX offers a broad range of devices including capacitors, resistors, filters, timing and circuit protection devices, and connectors. The company is publicly traded on the New York Stock Exchange (NYSE:AVX).



For more information, contact:

Brian Brunette

Applications Engineer, AVX

207-286-2181

bbrunette@avxtantalum.com

More from Software