Polymer Chip Capacitors suit automotive applications.
Press Release Summary: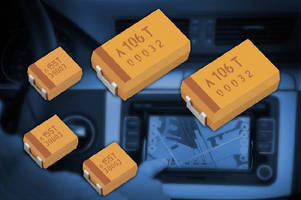 Qualified to AEC-Q200 specification for passive components, TCQ Series spans voltage range of 4–35 V with capacitance values from 4.7–220 µF and ±20% capacitance tolerance. Products feature conductive polymer electrodes, which enable benign failure mode under recommended use conditions, and exhibit basic reliability of 1% per 1,000 hr at 85°C and rated voltage with 60% confidence. Available in 3 case sizes, capacitors operate from -55 to +125°C and are 3x reflow compatible at 260°C.
---
Original Press Release:

AVX Introduces a New Series of Conductive Polymer Chip Capacitors for Demanding Automotive Applications



AVX's new AEC-Q200 qualified TCQ Series low ESR conductive polymer capacitors deliver exceptional endurance & performance stability to address the high reliability requirements of automotive applications



FOUNTAIN INN, S.C. – AVX Corporation, a leading manufacturer of passive components and interconnect solutions, has introduced the robust new TCQ Series automotive conductive polymer chip capacitors. Qualified to the Automotive Electronics Council's AEC-Q200 specification for passive components, the TCQ Series meets the AEC's challenging 125°C lifetime stability test and humidity bias testing at 85°C and 85% relative humidity for up to 1,000 hours.



"The AEC-Q200 lifetime stability and humidity bias tests are notoriously difficult for polymer capacitors to pass due to inherent material limitations. As such, we based our new TCQ Series automotive conductive polymer chip capacitors on our proven, high reliability TCR Series professional conductive polymer chip capacitors, making several critical improvements to the material, design, and manufacturing processes in order to deliver the enhanced endurance and high stability, harsh environment performance required to achieve AEC-Q200 qualification," said Gordon Hoey, global automotive product marketing manager, AVX.



TCQ Series automotive conductive polymer chip capacitors feature conductive polymer electrodes, which enable a benign failure mode under recommended use conditions, and exhibit basic reliability of 1% per 1,000 hours at 85°C and rated voltage with 60% confidence. The series also delivers low DC leakage (0.1CV), high capacitance, and stable electrical performance at operating temperatures as high as 125°C in small, low profile case sizes, which makes them ideal solutions for a wide variety of space-constrained, harsh environment automotive, industrial, telecommunications, and DC/DC converter applications.



Lead-free compatible and RoHS compliant, the new TCQ Series automotive conductive polymer chip capacitors are currently available in three case sizes: 1210 (EIA Metric 3528-21), 2917 (EIA Metric 7343-31) and 2917 (EIA Metric 7343-20). The full voltage range for the series spans 4V to 35V, and capacitance values span 4.7µF to 220µF with a ±20% capacitance tolerance. TCQ Series capacitors are also 3x reflow compatible at 260°C, and are rated for operating temperatures ranging from -55°C to +125°C,. Manufactured at an ISO/TS 16949 certified plant in accordance with the Automotive Electronics Council's AEC-Q200 specification for passive components, TCQ Series capacitors are supplied with 100% tin terminations on 7" or 13" reels, and lead time for the series is 10–12 weeks.



For more information about AVX's TCQ Series automotive conductive polymer chip capacitors, please visit http://www.avx.com/products/tantalum/automotive/tcq-series/ to access the product datasheet, relevant catalogs and technical papers, and modeling software. For all other inquiries, please visit www.avx.com, call 864-967-2150, or write to One AVX Boulevard, Fountain Inn, S.C. 29644.



About AVX

AVX Corporation is a leading international supplier of electronic passive components and interconnect solutions with 20 manufacturing and warehouse facilities in 11 countries around the world. AVX offers a broad range of devices including capacitors, resistors, filters, timing and circuit protection devices, and connectors. The company is publicly traded on the New York Stock Exchange (NYSE:AVX).



For more information, contact:

Allen Mayar

Product Marketing Manager

AVX

864-228-4540

allen.mayar@avx.com

More from Electrical Equipment & Systems