Polygon's Polymed Composite Medical Tubing is Invisible to X-ray, Thermally Insulating and Non-conductive
Press Release Summary: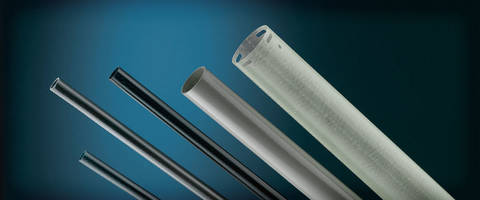 Lightweight and strong PolyMed is ISO-10993 compliant and can be sterilized
High strength and performance than stainless steel as well as of traditional thermoplastic materials
Ideal for use in a diverse array of demanding medical applications
---
Original Press Release:
Polygon Announces PolyMed® Composite Medical Tubing for Highly Engineered Surgical Devices
Advanced composite alternative to steel tubing available now
Walkerton, IN – Polygon Company, a leading producer of composite tubing, bearings, and cylinders, announces high-performance PolyMed® Composite Tubing for surgical applications.
PolyMed® Composite Tubing is ideal for use in a diverse array of demanding medical applications. Example uses include placement on electro-surgical devices (both monopolar and bipolar), surgical ablation tools, suction irrigation or trocar cannula, endoscopic / laparoscopic instruments and robotic surgery technologies. The unique ability of composite materials to be tailored to demanding medical applications makes them the material of choice.
Lightweight and strong, PolyMed Composite Tubing is invisible to X-ray, thermally insulating, and non-conductive. PolyMed strength and performance characteristics exceed those of stainless steel and are superior to traditional thermoplastic materials. Rigid or flexible according to client needs, PolyMed acts as a drop-in replacement for stainless steel tubing in a variety of endoscopic and laparoscopic instrumentation applications. PolyMed is ISO-10993 compliant and can be sterilized.
PolyMed® Composite Tubing components are tailored for each customer project. Polygon Company dedicates composite experts to work closely with customer engineers to develop an exceptional, customized medical component. Architectures include braided, circumferentially wound, and unidirectional. Plus, the resilient, thin-walled material can be produced in multi-lumen shapes as one piece.
Ted Wallace, Director of Sales and Marketing at Polygon says, "Composites are an excellent replacement for stainless steel tubing and other metals in medical applications. PolyMed's features and benefits out-do metal on multiple important factors, including patient protection."
For more information about PolyMed® Composite Tubing, visit https://www.polygoncomposites.com/products/medical.
About Polygon Company:
Polygon works with companies around the globe delivering composite tubing solutions that add value and performance to the medical device, heavy equipment, advanced tubing and other markets. With its seven-decade tradition of innovation, Polygon brings an in-depth understanding and extensive experience in the science and performance of composite tubing. As composite experts, Polygon helps organizations make their unique application easier, better and longer lasting. For more information visit www.polygoncomposites.com, call Polygon at 1-800-918-9261 or 547-583-3145, or email sales@polygoncomposites.com
Contact:
Kristin Nugent
McNeil Gray & Rice Inc.
(617) 367-0100, ext. 148
More from Agricultural & Farming Products