Polyethylene Piping System withstands harsh applications.
Press Release Summary: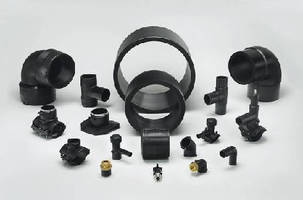 Offered in sizes from 2–36 in. IPS, SDR11 and SDR17 with metric sizes from 20–250 mm, ecoFIT Industrial Polyethylene Piping System features chemical, abrasion, UV, and weather resistance as well as high impact strength, even at low temperatures. ecoFIT is available in complete range of components including valves and connections, and is installed with fusion joining technology. Operating from -58 to 140°F, system is suited for harsh industrial applications, from process cooling to waste handling.
---
Original Press Release:

New Versatile ecoFIT High-Density Polyethylene Piping System Offers High Safety and Reliability Even at Low Temperatures



IRVINE, Calif. – GF Piping Systems announces the new ecoFIT Industrial Polyethylene (PE) Piping System designed for a wide spectrum of broad-based applications.  The new welded system features excellent chemical resistance, abrasion resistance and high impact strength, even at low temperatures.  These characteristics make it well suited for harsh industrial applications from process cooling to waste handling.  ecoFIT is available in a a complete range of system components including valves and connection options and is easily installed with one of  the company's three fusion joining technologies.



Other outstanding performance characteristics include an operating temperature from as low as -58°F to as high as +140°F (-50°C to 60°C), low weight, UV and weather resistance, and robust mechanical strength.  Available inch size ranges are from 2" to 36" IPS, SDR11 and SDR17 with metric size ranges from 20mm to 250mm.



ecoFIT installation can be easily and confidently accomplished using one of GF Piping Systems' proven fusion joining technologies.  These technologies include Infrared Butt Fusion, Contact Butt Fusion and Electrofusion.  With the specially designed eco-FIT fittings that include built-in electro-fusion coils as well as a visual fusion indicator showing when a joint has been completed, the Electrofusion joining method is particularly simplified.  Additionally, integrated fasteners allow for pre-assembly system dry-fit.  All three technologies allow a simple, safe and secure heat fusion joining process while providing industry leading controlled butt fusion and weld traceability that meet the expectations of existing customers.



"Our Electrofusion fittings have been designed with truly unique features that make installation easier and simpler than any other system on the market" says Brian Gordon, Product Marketing Manager for GF Piping Systems.  "Unlike other systems, an installer is not required to use multiple couplings to join one fitting, thus reducing number of fusions and installation cost."



ecoFIT's superior robustness combined with excellent impact resistance offer significant advantages, particularly in applications where low temperature would typically degrade or limit physical properties of other plastic materials.  With eco-FIT's all-round industrial suitability, customers will find applications in chilled water, process cooling water, industrial water treatment, bulk water distribution, pharmaceutical manufacturing, solar, power generation and semiconductor.



ecoFIT meets several standards including ASTM D2837, ASTM D3035, FDA CFR 21 177.160, FDA CFR 21 178.3297 and NSSF 61.  For detailed information on the ecoFIT, click here.  Or contact GF Piping Systems, 9271 Jeronimo, Irvine, CA 92618-1904 USA; Toll Free (800) 854-4090, Fax (714) 731-6923; e-mail: us.ps@georgfischer.com; Web: www.gfps.com



About GF Piping Systems

GF Piping Systems supplies a full range of plastic pipe, fittings, valves, actuators, rotameters, fusion machines, secondary containment, heat exchangers, custom products, and sensors and instrumentation for industrial process control.  For further information, please contact:  GF Piping Systems, 9271 Jeronimo, Irvine, CA 92618-1904 USA; Toll Free (800) 854-4090, Fax (714) 731-6923; e-mail: us.ps@georgfischer.com;  Web: www.gfps.com





Related